"D.C. Owls" Interns take flight at the Capitol
KENNESAW, Ga. (Mar 25, 2019) — This semester, our School of Government and International Affairs has been proud to send three Kennesaw State University students to intern in Washington, D.C. alongside legislators and officials, under the supervision of Dr. Tara Stricko Myers. Here's what they had to tell us about their experiences: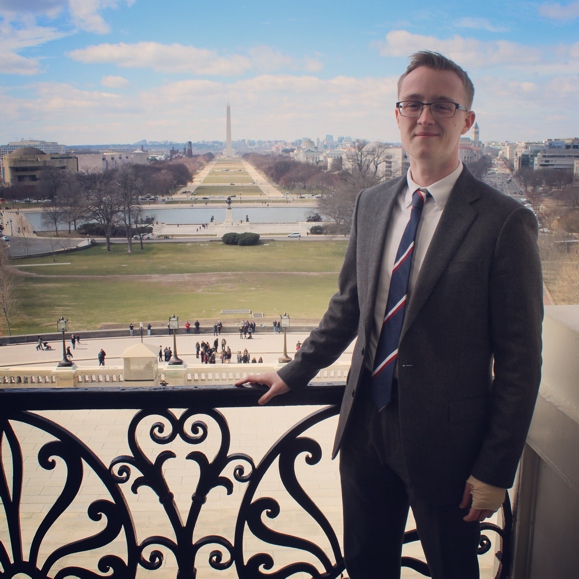 Chris Engert, an International Affairs senior, is a legislative intern in Georgia Senator Johnny Isakson's office. Engert assists staffers with many tasks, including drafting memos and letters, attending briefings and hearings, and general office tasks. He works with two teams: one covering defense and labor issues, and the other covering a variety of issues including education, immigration, homeland security, and cyber-security. Engert says, of the experience, "Interning in DC has been one of the best experiences of my life so far, and every day brings something new. I've been able to attend several high profile hearings, including acting Attorney General Matthew Whitaker's testimony to the House Judiciary Committee. I would highly suggest other KSU students to take advantage of this opportunity, as it truly opens all sorts of doors."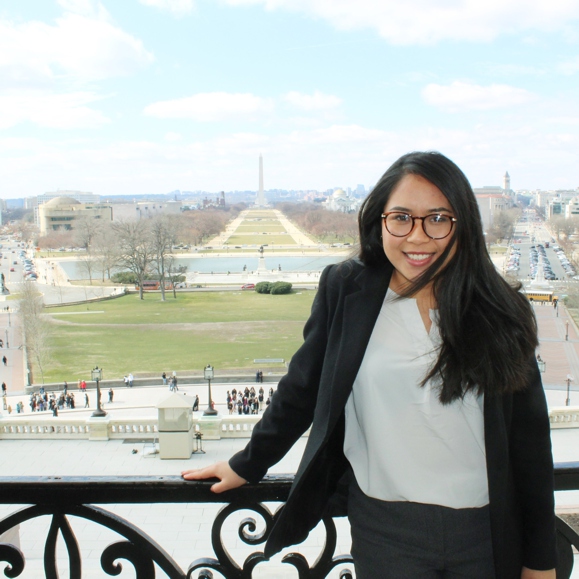 Also in Senator Isakson's office is Dianna Gonzalez, a third-year International Affairs and Accounting student. Gonzalez works closely with Senator Isakson's tax and budget legislative staff. Of her experience, Gonzalez says, "An average day in my internship consists of completing finance research, drafting memos, analyzing and summarizing proposed legislation, and attending Senate and House Committee Hearings pertaining to tax and finance.
I absolutely love working for Senator Isakson and I am thankful for the scholarship opportunity KSU awards students each semester that aspire to intern in DC."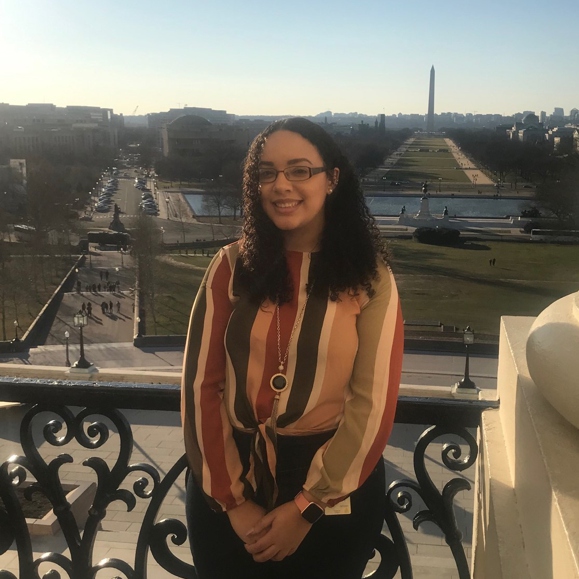 Arianna Wright is an intern with Congressman David Scott, representing Georgia's 13th District. Wright is poised to graduate at the end of this semester, with her Bachelor of Science in Political Science and minor in Legal Studies. On a day to day basis, she works on a multitude of projects, including responding to constituent concerns over the phone and through letters, reaching out to other officers for co-sponsorship requests for proposed legislation, attending various briefings, hearings, and receptions, and giving tours of the U.S. Capitol to constituents. She has even been granted the opportunity to visit the Office of the Speaker of the House, along with the Speaker's balcony. She credits Congressman Scott, his Chief of Staff and legislative aids, and the DC Owls internship with sparking her interest in policy issues and enhancing her professional development. Of her experience, Wright says, "Not only is the experience a great networking opportunity, but it allows me to become fully immersed in the inner-workings of Congress and the daily life of a representative… I can honestly say I have been grateful for this opportunity and am interested to see what else is in store as I learn more about the history and practicalities of Congress and continue my internship on Capitol Hill!"
Special thanks to Senator Isakson, Congressman Scott, and their staff for their work with our DC Owls interns. We are proud to be able to send our students to such prestigious offices, and help them grow personally and professionally.