Children and Family Program Testimonials
Testimonials (@ChildrenKSU)
"What an astounding group of professionals! If ever I had to select a "go-to" group or "go-to" individuals to entrust my families and/or students, I certainly have quite the dream team now! Your relatability, insights, breadth and wealth of knowledge, holistic conceptualizations, authentic passion(s) for mental and behavioral health, diverse perspective and availability to address the needs of our children are noteworthy. The one message that continues to stay with me is that we need to make sure that your services are made known to all that we can. You have my solemn commitment to that purpose."
-Dr. Sharon M. Thompson-Barbour, Lead School Psychologist, Psychological Services
"Thank you for the sessions, we have learned so much as parents. We have a lot to work on, but I believe in this process! With consistency, I know we can be happier family"
-Mother of an 8-year-old boy
"Working with Dr. Garefino has been a true blessing."
-Mother of a 7-year-old boy
"I am overwhelmed by how hard Dr. Garefino is willing to work for my family."
-Mother of an 8-year-old boy
"Thank you! Dr. Garefino. I employed the method of giving three praise to one correction; and have seen positive response from one person on my team. Honestly, I was skeptical, but I believe I am now having a paradigm shift. I just need to keep the information fresh in my mind."
-Workshop Participant, Anonymous
"I really liked the class! I really liked how organized the modules are; my ADHD ass would have missed so many deadlines without that nifty checklist thing. The content was super interesting. I really enjoyed the documentaries."
-Student, Anonymous
"[Dr. Garefino] is really passionate about her line of work and is very nice."
-Student, Anonymous
"You are one of the professors who make a fundamental difference in the life of a future professional, touching his/her life in a profound way. Thank you for this extra-ordinary experience. Without a doubt, your course left a permanement mark in my life!"
-Student, Anonymous
"Her level of knowledge in the course materials and love for teaching reflected in the classroom. She encouraged dialogue in her classes and respected each student's individuality and different ideologies."
-Student, Anonymous
Trainer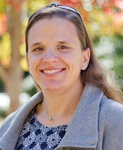 Allison C. Garefino, Ph.D.
Clinical Director, Children & Family Programs
Kennesaw State University
Phone: (470) 578-2233
Email:
agarefin@kennesaw.edu
Dr. Garefino is a graduate of the University of Pittsburgh and earned her Ph.D. in clinical Psychology from the State University of New York at Buffalo. She is a Part-Time Assistant Professor in the psychology department of Kennesaw State University, and the recipient of their Part-Time Distinguished Teaching Award three years in a row. She is also the 2017 recipient of the Part-Time Distinguished Teaching Award for the College of Humanities and Social Sciences. Her mentor Dr. William Pelham, Jr. developed a state of the art Summer Treatment Program (STP) for children and adolescents diagnosed with ADHD. Dr. Garefino served as the Clinical Director of the STP at the Center for Children and Families in Buffalo. She has also led many parenting strategies workshops, and helped develop and implement school-wide behavioral interventions. She is now the Clinical Director of the Children and Family Programs (CFP) at the Center for Conflict Management at Kennesaw State University.
Her clinical and research interests include increasing the dissemination and effectiveness of behavioral interventions for the treatment of the disruptive behavior disorders across multiple settings.
See her research here.