Elections & Dialogues for Peace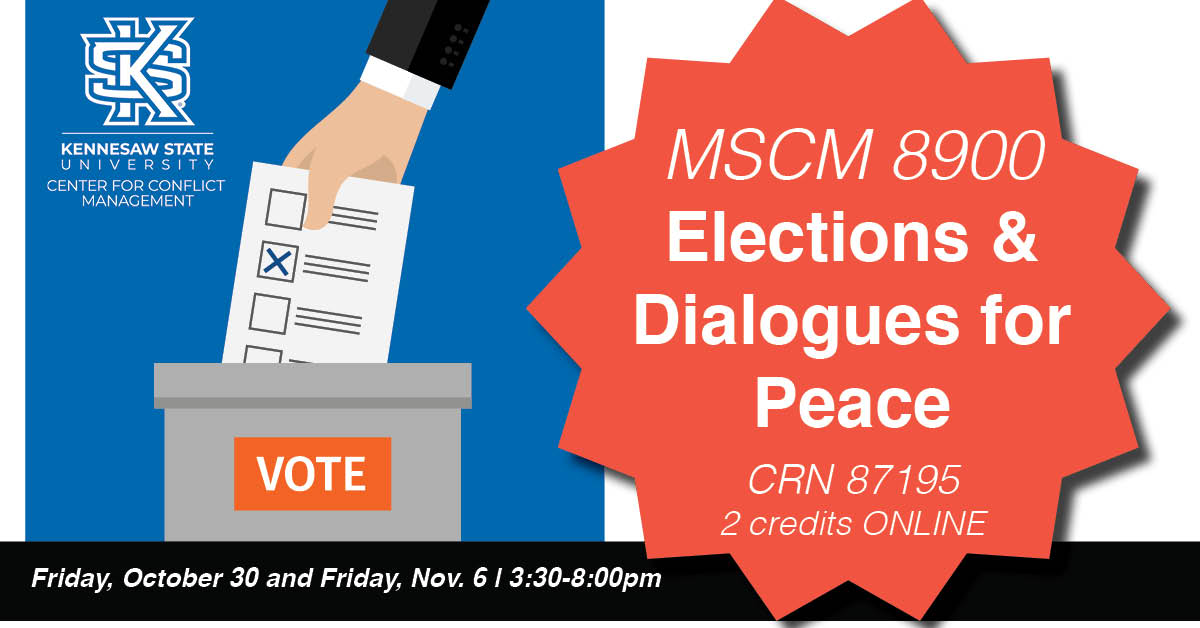 This course examines the role of race and ethnicity in electoral conflict, best practices for free and fair elections, and best practices for the use of inter-ethnic dialogues as a tool for peace building. Using the Master Class format, this course will bring local and international experts to share their experiences while teaching students how to observe elections and use inter-ethnic dialogues to heal contentious rifts in ethnically divided societies. Students will apply this learning through a hands-on process of elections monitoring or the facilitation of an intergroup dialogue.
Prerequisites
For KSU credit: Open to all KSU graduate students
For continuing education: Open to all KSU undergraduate students and non-KSU students
Professors
Dr. Susan Raines, Assistant Director of the School of Conflict Management, Peacebuilding and Development and Professor of Conflict Management
Dr. Amanda J. Reinke is an Assistant Professor of Conflict Management at Kennesaw State University and conflict manager in private practice.
Price
For KSU credit: Graduate level tuition rates (CRN: 87195)
For continuing education: KSU Students $100 / General Public $300
Date & Time
Friday, October 30 and Friday, Nov. 6 | 3:30-8:00pm | ONLINE
Plus experiential work requirements outside of class

Location: Online Course

Registration Deadline
August 12, 2020 (for KSU credit)
October 15, 2020 (for non-KSU credit)

Cancellation Policy
Full refund prior to October 15, 2020. Administrative fee of $75 if canceled from October 15 through October 23. No refund after October 23, 2020.

For more information
Ellen Lahtinen
elahtine@kennesaw.edu | (470) 578-6115