Overview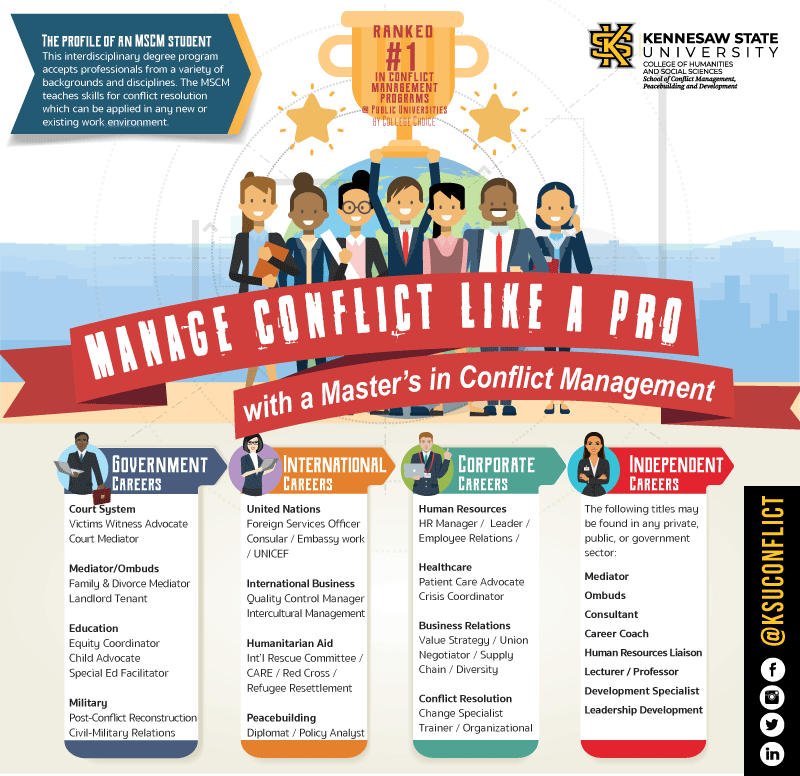 The Master's program prepares students to identify and pursue opportunities for a new career based on conflict management expertise. The MS in Conflict Management also provides students with enhanced credentials to pursue career advancement in an existing work environment. The primary objective of the MS in Conflict Management is to produce students who:
Understand the nature of conflict from the perspective of multiple disciplines
Understand the continuum of responses to conflict
Possess the necessary skills to facilitate the management of various types of conflict
Demonstrate the ability to analyze and research conflict in an organizational environment
Demonstrate the ability to design conflict intervention procedures and strategies appropriate to a particular situation or environment
Demonstrate the ability to evaluate the efficacy of a given intervention or system of interventions
Successfully participate in conflict management on a particular level in one or more specific environments.
The MS in Conflict Management operates a Cohort learning model for the study of conflict, admitting a limited number of students to each incoming group each fall.

Taking classes with the same group of students from program start to finish creates a unique and enriching learning environment.Cohort peers challenge one another and share insights from their respective diverse professional backgrounds to contribute to classroom learning.

In a typical MS in Conflict Management Cohort, over 20 undergraduate academic backgrounds are represented, several students already hold an advanced degree, approximately 20% of the students are international (often having come to us directly from a conflict zone), and multiple languages and ethnicities are represented. Such diversity in the classroom provides opportunities for enriching dialogue and discussion.

16-Month Graduate Program

The MS in Conflict Management program is a full-time, 16-month graduate course of study, but caters to professionals' schedules.

Classes are held alternating weekends, Fri. 3:00-8:00 pm and Sat. from 8:30 am-4:30 pm.

The Cohort takes one class at a time for a total of 9 credit hours each semester. For example, students complete the Conflict Theory course in 2.5 weekends, and then progress to the next course, Negotiation Theory.

Unique & Enriching Learning Environment

Students will learn negotiation, conflict theory, mediation skills, international peacebuilding, cross-cultural and international conflict management.

The Foundation: 1st Semester
Students spend the first semester building a foundation in theories and practices of the field
The Application: 2nd and 3rd Semesters
By the second and third semesters, students learn how to conduct research and apply the theories of the field to specific practice areas such as interpersonal, community, organizational, intercultural, and international arenas.
The Specialization: Final Semester
In the final semester, students specialize their learning through conducting research, engaging in an internship, or developing a training or workshop. Then, they culminate their learning experiences through an exciting domestic or international study opportunity.

Jobs our Graduates Have Gained

This interdisciplinary degree program accepts professionals from a variety of backgrounds and disciplines. The MSCM teaches skills for conflict resolution which can be applied in any new or existing work environment.

Job Title of our Recent Grads:

Patient care advocate
Diplomat
Employee Relations Specialist
Humanitarian Relief Specialist
Child Advocate
Organizational Consultant
Ombudsman
Facilitator
Divorce and Family Mediator
Juvenile Court Mediator
Arbitrator
Victim-witness Advocate
Crisis Negotiator
CIA, FBI, Homeland Security
Secret Service
Consular Afficer
Human Rights Advocate