365 Days of Learning and Service
The Norman J. Radow College of Humanities and Social Sciences (RCHSS) goes beyond research and study. During this 2023-2024 academic year, the 365 Days of Learning & Service initiative encourages students, faculty, and staff to participate in learning and volunteer activities that broaden knowledge about sustainability and increase understanding about the depth and breadth of issues impacted by sustainability.
365 Days of Learning & Service challenges preconceived ideas, increases awareness, and inspires the KSU community to be agents of positive change by turning theory into action. 
The Mission
The mission is to bring students, faculty, and staff together to examine a contemporary relevant issue facing our community and go beyond research and study by putting into practice new knowledge acquired throughout the year and facilitate positive change going forward.
The Approach
Our steering committee of faculty, staff, and student representation identifies a contemporary relevant issue – this year, it is sustainability – and works with the Radow College community to present a variety of events and opportunities to examine the issue in-depth. Components of the program vary from year to year and may include a speaker series, service-learning classes and other opportunities for service, support for faculty to develop teaching modules, student creative design competitions, film showcases, and book discussion groups. Through 365 Days of Learning & Service events and activities, Radow College develops and strengthens relationships with institutional partners in our community, and creates opportunities for students, faculty, and staff to develop into leaders who drive positive change long after the year of study.
History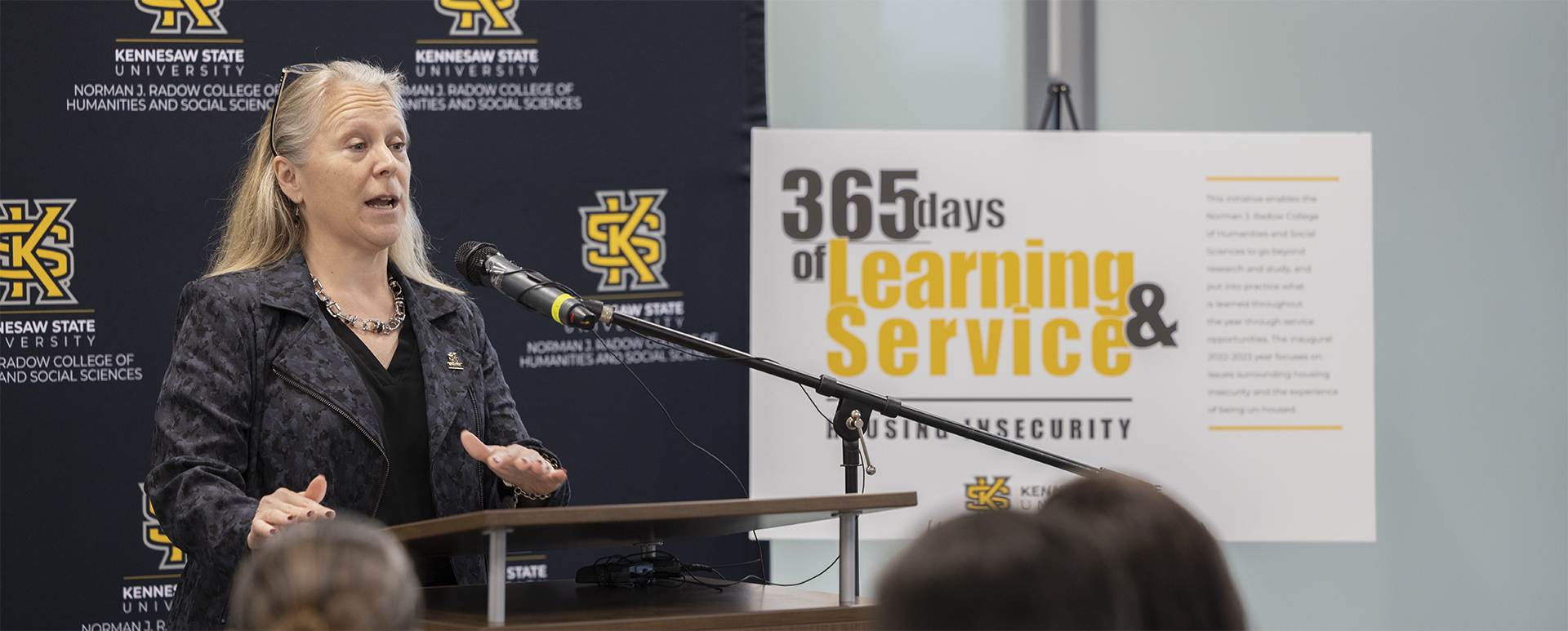 Radow College launched the 365 Days of Learning & Service initiative during the 2022-2023 academic year at a press-style event with keynote speaker Dean Catherine Kaukinen and special guest speakers Chris Hess, Ph.D., Assistant Professor of Sociology; Aaron Goldman, President & Co-owner, Perennial Properties, and Founder and Board Chairman for Open Doors; and Amy Barrow, Director for Homeless and Community Engagement for United Way of Atlanta. The inaugural year was a successful investigation into housing insecurity and the experience of being unhoused delivered through a variety of events and activities. Learn more about last year's kickoff event by watching the video below and reading details of last year's initiative in the year-end report.
Throughout the year, we hosted seven events, two donation drives, and
multiple service opportunities. These activities were designed to spotlight
multiple aspects of the housing crisis.
Click Here to Read the Summary
Leadership - Meet the Steering Committee
Associate Dean for Student Success and Inclusive Engagement, Michael Chen, Ph.D., is responsible for events and activities that will take place as part of the 365 Days of Learning & Service initiative for the 2023-2024 academic year. This year's program is being developed and supported by an outstanding group of faculty and staff who comprise the steering committee.