Alumni Spotlight
Nikki Brooks, Criminal Justice Alum Victim Advocate in the Gwinnett County District's Attorney's Office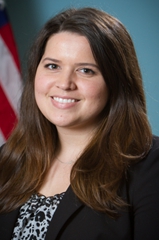 I have been a victim advocate in the Gwinnett District Attorney's Office for 9 years. I began my employment merely two weeks after obtaining my bachelor's degree from KSU.
Our office prosecutes all felony crimes, as a victim advocate I am responsible for notifying victims of crime the status of their case as well as explain the court process. I also will sit with victims in court for any hearing and answer questions as well as explain what is going on in the courtroom for their case. I offer emotional support as well as refer them to other agencies within the community that can assist them more in depth specifically to their unique situation. My relationship with victims may be brief in some cases while in others some victims feel like extended members of my family.
Along with my daily duties of victim contacts and notifications, our office has two major annual events for the community. During the fall we offer a breakfast for agencies within the community to get together and learn more about what is offered in each organization. We also highlight a specific agency for their work with victims. Our largest event is the Candlelight Vigil which occurs the first week of December. This event is a ceremony to remember victims of homicide as well as an opportunity for their families to connect with one another for support. We have four Christmas trees decorated with ornaments to represent those who have lost their lives as a result of homicide. We also have agencies within the community that work with homicide victims decorate several other trees as well as display information about their agency for the victims families to have as they attend the vigil. It is a great event for our office with an attendance of about 400 people. The event is a great time to see families from cases that have been closed from years past as well as help recent victims families to cope with their loss during the holiday season.
Sarah O'Hara, Outstanding Senior in Criminal Justice 2014-2015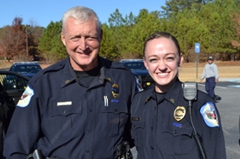 In her own words, she tells us how she got from classroom to patrol car.
"The decision to go to Kennesaw State University was a no brainer for me when I was in high school. Being joint enrolled my senior year of high school let me get my foot in the door and I loved my four years at KSU. But deciding where my law enforcement career would start after graduation was a little more difficult. After submitting a handful of applications and weighing the pros and cons of each department, I chose Cobb County Police Department.
It was a struggle to decide, but CCPD won out because of their unparalleled training, equipment, and because I have spent most of my life in Cobb County. The knowledge I gathered at KSU (especially when it comes to writing!) gave me the perfect foundation to build my career on. From here I am planning on making my way to detective and hopefully I will come back to KSU for my master's degree. Time will only tell, but for right now I'm excited about my future on the street with CCPD standing on the foundation I built at KSU."