Addressing adolescent mental health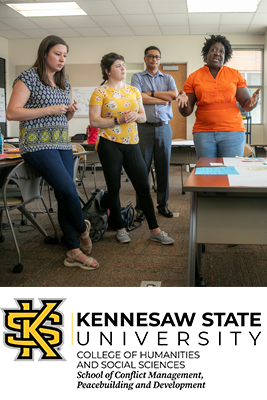 Interdisciplinary team working to develop support systems
KENNESAW, Ga. (Nov 1, 2019) — Addressing the social and emotional health issues that middle and high school students face might not sound like a typical project for a student pursuing his master's degree in information technology, but Jake Sciotto embraced the opportunity to help local children.
Sciotto wants to support kids who might be in the type of situation he experienced at their age. Sciotto said he went through "a low point in my life" a few years ago when his cousin committed suicide and a close friend died from a drug overdose.
"It sent me on a spiral that forced me to tackle my own social and emotional issues," he said. "Only through therapy, the support of my family and friends, and some radical lifestyle changes have I come out on the other side."
So, Sciotto didn't hesitate when he heard about an opportunity to pay that forward. He was chosen along with five other Kennesaw State graduate students from varied academic disciplines for an interdisciplinary fellowship to conduct research and work to enhance procedures and support systems to identify and help local students with mental health issues.
"I saw this course as a chance to understand what kids are going through and equip them with tools to cope and process traumatic or troublesome situations they may encounter," Sciotto said. "The challenges that current students are facing are leaps and bounds more difficult than the challenges I recall when I was in high school 10 years ago. Being there to help in any way possible is my primary goal."
The initiative began as a two-week Maymester course on social innovation and design thinking, led by Monica Nandan, professor of social work and human services in the WellStar College of Health and Human Services. The group started exploring different school shooting cases and attempted to understand the reasons behind them, soon realizing that the absence of supports among peers, schools, family and community often was among the factors influencing violent behavior by adolescents.
For example, one of the KSU students pointed out that placing metal detectors in schools is a suggestion commonly made in discussions about preventing school shootings. However, doing that does not address the core issue of why a student commits a violent act, and what could be done to recognize the warning signs and prevent the student from harming himself or others.
Following the completion of the course, the students chose to continue their efforts over the summer and through this semester. A vital component is that the participants are visiting local schools and churches to talk with middle and high school students, inviting them into the conversation as consultants in order to understand their worlds and their challenges and then create innovative solutions with them.
"The uniqueness about this approach is that it didn't stop with the students going through a class and doing two weeks' worth of research to design innovative solutions for mental health," Nandan said. "The real work is happening now as we're meeting with children to understand the way the world looks to them and what kind of solutions they would like."
Sciotto is on the team with four fellows from other master's degree programs: Bienvenue Konsimbo (Master of Science in Conflict Management in the College of Humanities and Social Sciences), Chelsea Meeker (social work), Sarah Navarro (social work) and Ashley Ramsey (public administration). A sixth student, Nikita Raper (social work and business administration), participated during the two-week class and the summer. The students applied to be part of the fellowship, and Nandan selected them based on their diverse backgrounds, interests and skill sets.
"That diversity of thought is the key to developing better solutions," Nandan said. "The goal was not to have students who all are from social work or information technology or conflict management, but to have an effective mix of skills and thought processes."
The fellowship is funded through a grant from local businessman Scott Solana, who wanted to develop an innovative solution to school violence from the students' perspective. Already familiar with KSU from serving on the Coles College's Accounting Advisory Board, Solana was introduced to Nandan and they began work on what became the Solana Social Innovation and Entrepreneurship Graduate Fellowship.
Implementing the course and fellowship has been a team effort, including information systems associate professor Pamila Dembla and social entrepreneurship consultant Sir Bright. The fellowship takes an "interdisciplinary approach to teaching, understanding and problem-solving using design thinking protocol," according to Nandan.
"It has been incredible to see the energy and talent from Dr. Nandan and these students," Solana said. "I'm very excited to see what this is going to be. My commitment with these students is, once they complete this, I have to turn it into something to make an impact in the community."
The students will continue their research through the end of this year and anticipate making recommendations sometime in 2020. Solana then plans to present the students' research and proposals to local school districts and other community stakeholders.
"I think the most beneficial aspect of this project is that we are at the forefront of tackling issues that children are dealing with," Sciotto said. "I'm not sure that parents are aware of the issues that their children are facing in and out of school, and hopefully this research will shed some light on how we can bridge the gap."
—Paul Floeckher
Photography by Jason Getz