Help Support our Students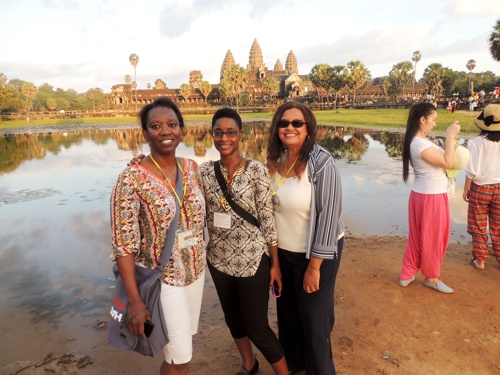 Our School aims to educate professionals who will promote conflict resolution and peacebuilding at the local, national and global levels. With over 60 current students, 400 alumni, and over 4,000 professionals who have trained with us, we have conflict management professionals all over the world. Our workshops have trained local mediators, Ombuds, and human resource professionals from small businesses, to family businesses and large corporations.
Our faculty, students, and alumni work with refugees, battered women, and war survivors in the United States and around the globe. These local and international experiences are what keep our mission in focus: to prepare engaged, interdisciplinary change-makers with rigorous academic and practice skills.
How You Can Help
We exist to make a difference. We need external support to achieve our goal of being one of the best conflict management, peacebuilding and development Schools in the world. Offering scholarships and fellowships is instrumental in attracting top students. For example, a fellowship of $20,000 could support a graduate student working to address gender-based violence in the developing world, or for a student actively promoting justice and democracy in post-conflict societies, or for a student utilizing data science to create early warning systems. Larger donations could support endowed professorships, speaker series, or even a building to pay tribute to the donor or memorial. With such contributions, our students will not only promote change on a global scale, but they will help make the vision of the School of Conflict Management, Peacebuilding and Development a reality.
Option 1: Donate to School
Donate to the School of Conflict Management, Peacebuilding and Development. We exist to make a difference. We need your help. Please consider supporting fellowships and scholarships or contact us about other ways you can get involved.
Donate to School
Please specify "School of Conflict Management" under Gift Designation Choices
Option 2: Donate to the Helen Ridley Annual Scholarship for Masters Students
Dr. Helen Ridley started the Master's of Science in Conflict Management (MSCM) Program in 1999 and her efforts were crucial to its sustainability and growth. In order to continue and honor Dr. Ridley's contribution to the MSCM Program and to financially support the studies of current and future MSCM students, we are asking for your support by making a contribution to the Helen S. Ridley Annual Scholarship. Donations are tax-deductible under certain conditions and can be processed via our Scholarship site.
Donate to Scholarships
Please specify KSU Foundation / Helen S. Ridley Annual Scholarship under "Other" Gift Designation Choices
Follow Our Progress
Our biweekly newsletter shares the great accomplishments of our current students, alumni, and faculty. We also share upcoming training opportunities. Don't worry, we won't spam your inbox!
Subscribe to our newsletter