Graduate Student or Superwoman? How this Single Mom is Navigating Graduate School During the COVID-19 Pandemic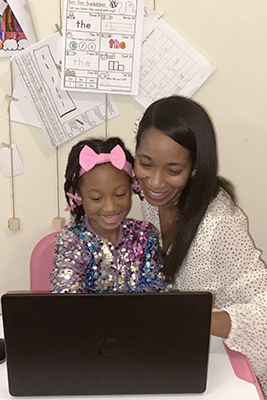 KENNESAW, Ga. (Dec 3, 2020) — It's no secret that COVID-19 forced millions of Americans to shift their normal work, school, and personal routines to cope with the pandemic. Adjustments have been difficult for everyone, but if you combine the job duties of single mom, first-time graduate student, and full-time bank employee working from home, you can only guess what the adjustment was like for Shatika Ricketts.
Shatika is a first-year graduate student in the Master of Science in Conflict Management (MSCM) program, and even with a countless number of tasks to juggle, she found her groove!

How did she learn about the graduate program?
After graduating with her Psychology degree from Fisk University in 2007, Shatika began a career in the banking industry as a dispute analyst at a credit union in Metro Atlanta. During her divorce through the court system, she was introduced to Alternative Dispute Resolution (ADR). When asked about ADR, she said, "I wish I had known about it before starting my divorce; I love that it gives people and parents the opportunity to self-determine how the process will go," (Erica Bowdre, personal communication, November 22, 2020). Over time, Shatika started getting involved in non-profit organizations about human rights and civil rights, which guided her to taking the mediation certificate offered by the Center for Conflict Management at KSU in 2019 to become a registered mediator in the state of Georgia. This sparked her interest in the master's program as she felt she needed more education before going full force into mediation. Shatika applied to the program shortly after completing the mediation course, and officially became an MSCM student in August 2020, about five months after COVID-19 completely shifted the usual way of life in the United States.

How did COVID-19 change the "normal" routine?
Before everyone was forced into quarantine due to the pandemic, Shatika and her daughter, Zoe, had a standard weekly school-work-home routine. Everything shifted when Zoe was sent home from Pre-K in early March and her school did not open back up until instruction started again in August, but virtually for Zoe this time around. Shatika's mom, who is a retired teacher, was able to help as they did their best to help Zoe learn from home to ensure she did not fall behind.
Now, Zoe self-learns virtually each day while her teacher goes live, and Shatika sits beside her to help, all while working remotely. "I'm switching back and forth and on my job; I have cases that I have to work and deadlines that I have to meet," Shatika said about their new daily routine (Erica Bowdre, personal communication, November 22, 2020). "It's like I'm homeschooling." In the midst of it all, Shatika also has to find the time for her own schoolwork.


What are your largest obstacles and how have you overcome them?
According to Shatika, the largest obstacle during the process of starting school during the pandemic as a single mom was the time constraints of balancing work and prioritizing assignments. She said, "I've been out of school for so long the biggest hurdle for me has been juggling working full-time, having a child, and school" (Erica Bowdre, personal communication, November 22, 2020.
All in all, she has overcome by taking everything one day at a time.
"These are the times right now, and I am learning to be patient and adapt. I have learned that life is all about adapting and everything isn't going to be perfect." (Erica Bowdre, personal communication, November 22, 2020)
Advice to parents who may join the program?
Shatika has simple advice for anyone looking to get started who already has various tasks to juggle is to have a plan. She says planning ahead for assignments and other priorities has made the difference for her during this adjustment. "Make a schedule for your kids and set reminders as much as possible for assignments," she said. "I wasn't a schedule person, but I've had to create one." She added that taking a look at syllabi ahead of time is also a huge key to preparation. (Erica Bowdre, personal communication, November 22, 2020)
Reflections and hopes for the future?
"I hope to continue in the program learning and gaining new insight. I'm always a student, I love the fact that I'm learning and gaining new perspectives and better skills," Shatika said about the semesters to come. With a new routine in place, she can continue toward the finish line with confidence and enthusiasm!
Resources to help Other Student-Parents
The School of Conflict Management, Peacebuilding and Development is proud to offer a free Students-who-Parent support group, created especially for students like Shatika. In the support group, each 60-minute session will focus on different relevant topics for positive parenting, such as how to promote positive peer relationships, manage negative behaviors, and how to support children's virtual learning during this time of COVID-19. Each participant will receive a Student-Parent Toolkit which contains resources available at KSU and in the community to support parents who attend college.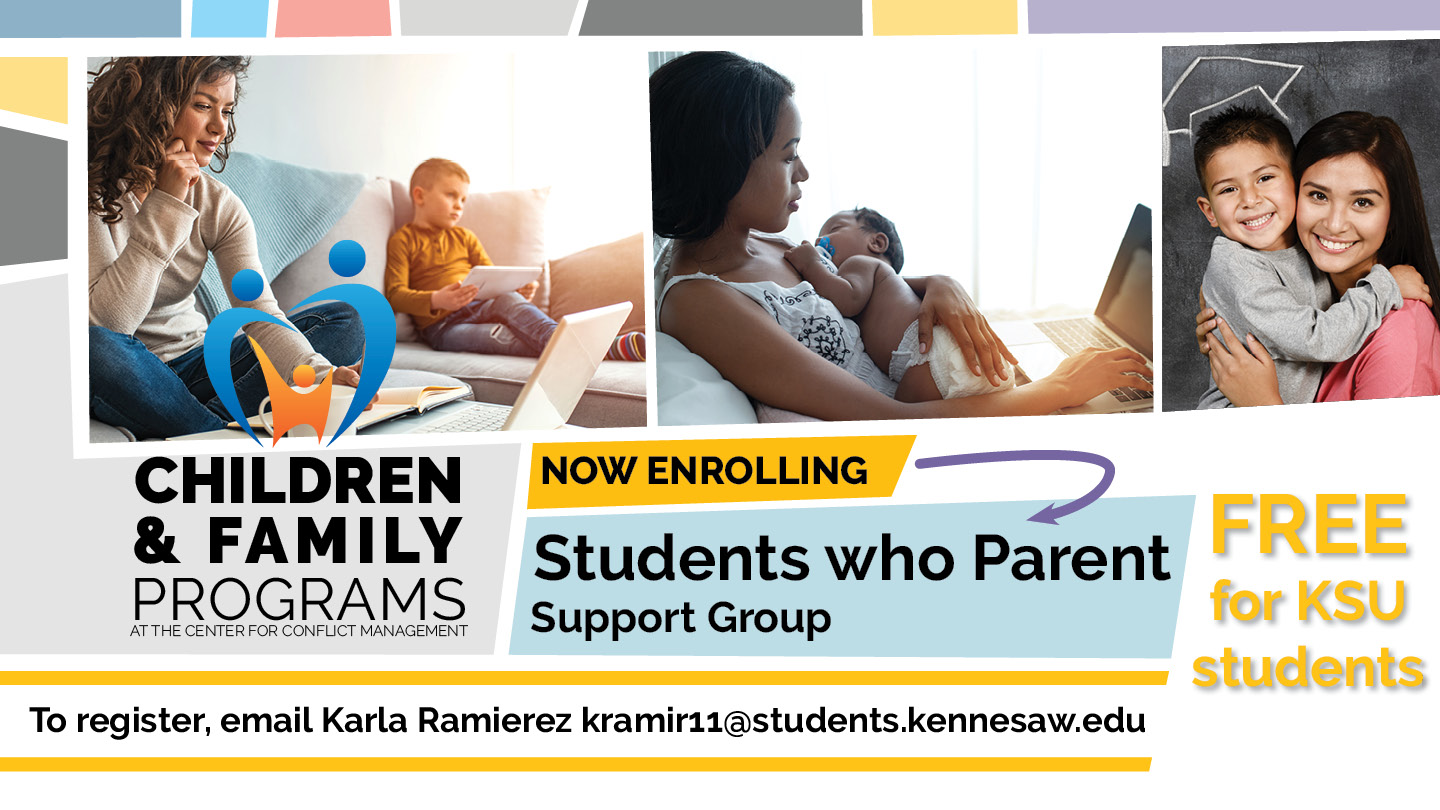 For more information on the support group or other Children and Family skills programs, visit the Children and Family Programs at KSU.
-Erica Bowdre, MSCM Student, and Nicole Connelly, Communications Professional
School of Conflict Management, Peacebuilding and Development