Ph.D. in International Conflict Management Shares: From the US to South Africa, a Global Learning Exchange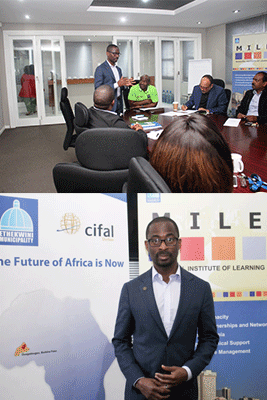 Ph.D. in International Conflict Management Shares: From the US to South Africa, a Global Learning Exchange
KENNESAW, Ga. (Aug 28, 2018) — Jean Marc Akakpo, a doctoral candidate at KSU is dedicating most of his summer as an intern for Centre International de Formation des Autorités et Leaders Atlanta, operating in Durban, South Africa. Akakpo is working with city officials and teaching a summer course to students at The eThekwini Municipal Academy.
To contribute, Akakpo is teaching a course called Global Financial Institutions at the University of KwaZulu Natal in Durban. His lectures are revolved around teaching his students to understand the impacts of international financial organizations on sustainable development.
The course identifies and teaches historical, economic and environmental issues around the world that major financial institutions assist in resolving.
Aside from his teaching efforts, Akakpo's primary focus is how to mitigate conflict and development issues within and between countries. He chose South Africa because it has a deep history of racial divisions from the Apartheid regime. Since Apartheid ended in 1994, Durban has faced challenges to safety, health, and community development.
"The biggest challenge related to Apartheid, as far as I am concerned, is how to integrate the population living in slums into the cities," Akakpo said. "Before 1994, there were 300 slums in South Africa, and now there are 2700. I have visited a few slums since I've been here, and what I saw was heart-breaking and not describable here.
While this is a severe issue in the city of Durban, the same is true for every other major city in South Africa. "The difference is that Durban is actively working to make the city a lot safer" Akakpo said.
Africa is a changing continent, and Akakpo wants to change the mentality many people have towards Africa.
"The continent is catching up to the rest of the world in term of infrastructure, technology, and knowledge, and I see this in Durban" Akakpo said.
If you wish to learn more about Akakpo's internship program that led him to Durban, South Africa, visit the KSU CIFAL Atlanta page for more information.
The original story appeared in KSU Sentinel, July 9, 2018.