KSU Professor, Dr. Sherrill Hayes, Shares Reasons Why Everyone Should Try a Fellowship Abroad (and bring their family, too!)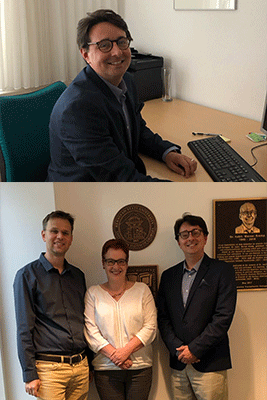 KSU Professor, Dr. Sherrill Hayes, Shares Reasons Why Everyone Should Try a Fellowship Abroad
KENNESAW, Ga. (Aug 28, 2018) — Fearful of applying for that fellowship in another country? I was too. Here's what I learned about building your own fellowship and making it work for everyone.
When most faculty think of "fellowships" they imagine highly competitive (inter)national processes awarded to faculty from prestigious research universities. That daunting thought is usually compounded by significant strings (i.e. no family), which ultimately dissuades many of us from even applying. We then resign ourselves to never getting that mid-career boost OR the opportunity to offer our family that once in a lifetime chance of living abroad. Talk about a self-fulfilling prophecy...
In my previous role as Director of the Master of Science in Conflict Management program, I was tasked with ensuring that our students had a high-quality study abroad to fulfill their MSCM 7715 course requirement. It was in that capacity that I first met colleagues from the Europaische Akademie Otzenhausen (EAO) and the Europa-Insitut at Saarland Universitat, both in Germany. Kennesaw State students and faculty have truly benefitted from developing a strong working relationship with these institutions, which have helped create multiple study abroad opportunities for undergraduate and graduate students, international student internships, and several faculty development programs. Last year, EAO expressed an interest having faculty work with them on projects that could help them improve their program delivery. After talking with my Dean, I offered EAO some of my research and consultation skills to help them with academic program development and evaluation, facilitation training for their professional staff, and to teach a mediation course at Europa Institut. I was fortunate that they not only said "yes" to my proposal but were enthusiastic about the prospect!
In addition to this being an amazing professional development opportunity, it also felt like a way to give my family the incomparable experience of living abroad. However, before I said "yes" there were a few questions I had - and I'm going out on a limb here - that I will recommend if you consider something similar. As a side note - there were also some that we did not ask that we now would have (e.g. Q - Will the flat have air conditioning? A - No and Germany got really hot this summer!). 1) Is this just for me is there something in this for my family too; 2) Is the return worth the investment; 3) How would I balance work demands at KSU with the fellowship and teaching?; and 4) What will be the ultimate products for them and for me?
In all, my work with EAO and Europa Institut were successful. I read, entered, and developed a database of program evaluations covering the past 3 years, wrote over 45 pages of reports covering issues like program development and data strategy, and taught a mediation course to 18 students from 14 different countries, Not bad 6 for weeks worth of work!
For my family, we walked many kilometers, rode trains and buses across 4 different countries. I drove on the autobahn and boy I'm glad I have experience driving on I-75 in Atlanta. We watched World Cup matches everywhere from French street cafes to Spanish futbol clubhouses and probably (definitely) ate too much pastry. So not only did I manage to have an amazing professional experience, I was fortunate spent unforgettable time with my family that we can talk about for years to come.
In sum, this was much different from the stressful, time consuming, and often unsuccessful application process surrounding most international fellowships. On reflection, I also realize that I had a sort of 3 year "audition" with EAO and Europa Institut that allowed them to know my strengths and me to understand their needs in a way that reading a "call for proposals" and writing a short application could ever really match. I strongly recommend that faculty continue to seek out any opportunities they can to develop themselves professionally and personally and recognize that opportunities like this can come in many forms.