Dr. Debarati Sen wins TWO awards for her book, Everyday Sustainability: Gender Justice and Fair Trade Tea in Darjeeling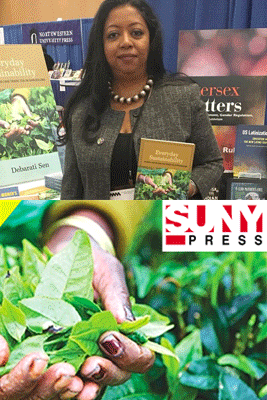 Dr. Debarati Sen wins TWO awards for her book, Everyday Sustainability: Gender Justice and Fair Trade Tea in Darjeeling
KENNESAW, Ga. (Aug 28, 2018) — Debarati Sen has been awarded her second book award for Everyday Sustainability: Gender Justice and Fair Trade Tea in Darjeeling (State University of New York Press, 2017). The first award was The Global Studies Book Award which compared books of scholarly concern including "development and global justice working across a number of fields, for example, postcolonial studies, development studies, critical political economy, critical security studies, social and political theory, history, sociology, gender studies, and public policy."
The newest award, the National Women's Studies Association Gloria E. Anzaldúa book award, is awarded for groundbreaking scholarship in women's studies that makes significant multicultural feminist contributions to women of color/transnational scholarship.
The committee reported:

Everyday Sustainability is a fantastic and strong ethnography looking into problems of microcredit. It makes an important intervention in the field of 'fair trade,' and provides novel contributions to the discourse on helping or empowering women workers in India (and elsewhere). This book offers a textured critique of so-called fair trade economic models through a post-colonial, feminist framework. It offers an extensive review of feminist research methods grounded in ethnography. This is a lucid book based on over ten years of research. Its success as a text relies on an approachable use of theory and highly precise writing. Everyday Sustainability is a monumental achievement in feminist ethnography.
Congratulations to Dr. Sen on her much-deserved awards!