A city's response to refugees, migrants, and a violence prevention program in Greece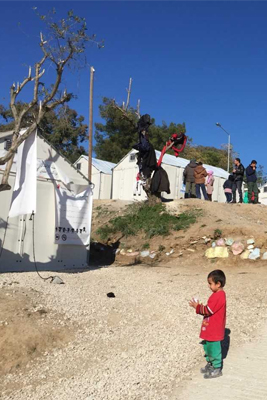 Fulbright fellowship in Athens, Greece to combat refugee crisis
Athens, Greece (Oct 1, 2018) — With funding from a grant from the American Arbitration Association/International Center for Dispute Resolution, KSU's Director of the School of Conflict Management, Peacebuilding and Development, Joe Bock, accompanied a lead staff member, Lori Toscano, from University of Illinois at Chicago's award-winning initiative, Cure Violence, to work out the details of a violence prevention initiative in Greece. The project is an outgrowth of Bock's work with the Municipality of Athens with support from the Fulbright Foundation in Greece. During the winter of 2015-2016, Bock worked with Athens' municipal staff in developing the city's response to the substantial influx of refugees and migrants. Through that work, it became clear to Bock that a violence prevention initiative was needed. Bock subsequently contacted Cure Violence, requesting its involvement.
Cure Violence's epidemiological approach to violence prevention has been subject to five rigorous evaluations. These have been conducted by the Bureau of Justice Assistance of the U.S. Department of Justice in New York; the McCormick Foundation/University of Chicago/University of Illinois at Chicago; University of California-Davis and Columbia University; National Institute of Justice and Northwestern University; and, the Centers for Disease Control and Prevention and Johns Hopkins University. The conclusions of these evaluations indicate that Cure Violence's initiatives result in reductions in violence ranging from 18% to 73%.
The purpose of the trip was to write a proposal for funding for a project aimed at preventing violence against and between refugees and migrants, as well as against Greek citizens who are victims of hate-induced crime. The initial focus will be on Greece (including greater Attica, Thessaloniki and some of the islands) as a pilot project. Subsequently, the plan is to spread the Cure Violence approach to other parts of Europe. Training on violence interruption will be provided by Cure Violence's staff, while Bock and two Ph.D. students, Ziaul Haque and Kevin McMahon, will provide technical support of how to use digital mapping, crowdsourcing and identification of "hot spots" for early warning.
One goal of the project is to serve as a model to engage members of Rotary International in working towards peace within their communities. It is anticipated that some Rotarians will be trained by Cure Violence and will participate in crowdsourcing of information regarding increased tensions as well as indications of cooperation.