Taylor Downs wins Best Student Paper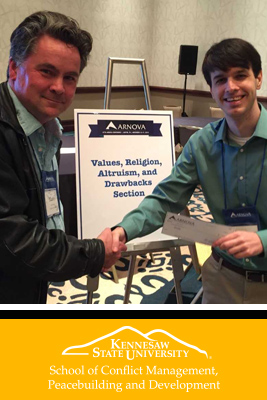 Taylor Downs wins Best Student Paper
KENNESAW, Ga. (Nov 29, 2018) — Taylor Downs, PhD student in International Conflict Management wins best paper for his paper titled "Understanding Internal Social Movement Differences and Framing in the Movement Against the Dakota Access Pipeline" at the 2018 annual ARNOVA Conference in Austin, Texas.
The Conference Theme was " From Relief to Resilience: How Philanthropy, Nonprofits and Volunteers Bridge the Gap between Crisis and Sustainability". The requirements were for the paper to address the Conference Theme and VRADS Mission. In addition, it must be accepted by ARNOVA as a paper presentation at the 2018 Conference. Lastly, authors or lead author must be a matriculated student or have graduated within one year of when the paper is submitted for award consideration.
Congratulations, Taylor!