In Pursuit of Peace-Dr. Endale, Summer INCM Graduate Feature Story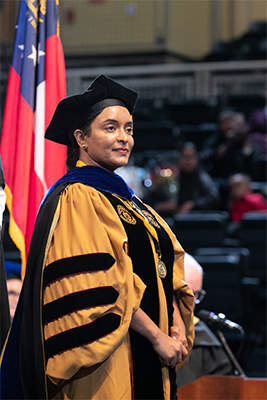 KENNESAW, Ga. (Sep 11, 2019) — Just days before she was set to walk across the stage in Kennesaw State University's summer commencement ceremonies, Etsegenet "Mimi" Endale received a call from the campus bookstore.
"Dr. Endale, your regalia is ready for pickup," the voice on the other side said.
After successfully defending her dissertation in the University's Ph.D. in International Conflict Management degree program, it was the first time she had ever been addressed as "Dr. Endale."
"It just felt so surreal," she said. "It was very exciting and somewhat overwhelming to hear, but now I feel I have a responsibility to share my knowledge and skills with others."
Before enrolling at Kennesaw State in 2014, Endale had already accumulated a wealth of experience as she pursued her studies around the world. A native of Ethiopia, she earned an undergraduate degree in political science and international relations from Addis Ababa University. Shortly thereafter, she made her way to Tokyo to earn a graduate degree from Meiji University. Reflecting on her childhood, Endale said she was always inspired by the role her father played as a respected mediator and medical provider in her community, which later pushed her to become an Ethiopian diplomat and become involved in the United Nations General Assembly.
Through those experiences, she discovered a passion for peacebuilding and sought the credentials to back her knowledge.
"I grew up in a home where it wasn't uncommon to hear about diplomacy, communication, negotiation and peacebuilding," said Endale, who attended Kennesaw State on a Clendenin Scholarship. "As I grew up and began to travel throughout the world and saw places where people were impacted by conflict and violence, I became even more interested in studying human behavior and why people become involved in this area."
While researching degree programs, she learned about KSU's School of Conflict Management, Peacebuilding and Development, and reached out to faculty members to learn more. Among her first stops was the office of Sherrill Hayes, professor of conflict management and program director for KSU's Ph.D. in Analytics and Data Science, who at the time was the program director for the University's master's degree in conflict management. After speaking with Endale, however, he was convinced that she would be better served by the doctoral program and later became her dissertation chair.
"Having her as student allowed me to learn so much, and working with her, particularly over the last few months, was rigorous but rewarding," he said. "She is extraordinary and is frankly the kind of student KSU aspires to have."
For her dissertation, Beyond Resettlement: The Role of Ethiopian Refugee Diaspora in Homeland Peacebuilding, Endale met with conflict-induced refugees in the Atlanta area and in Ethiopia to better learn how they are working to achieve peace in their homeland. While compiling data for her nearly 200-page dissertation, she began to realize how applicable her studies were to real-world scenarios.
"When I traveled back home to collect data, that really opened my eyes to things I was not really aware of prior to studying at KSU," she said. "That visit showed me the practical aspects of the degree program and allowed me to see how conflict and violence can affect ordinary people."
It was also during that visit that she became interested in healthcare studies, leading her to complete an undergraduate degree in nursing at Mercer University while she finished her doctorate at KSU. She is pursuing a graduate degree in nursing and seeking a career in academe.
"In the long term, I can see myself educating the next generation and becoming more involved in health policy," she said. "I want to serve people in any way that I can."
– Original story by Travis Highfield
Photos by David Caselli