Peace and conflict experts invited to half-day roundtable discussion at the Carter Center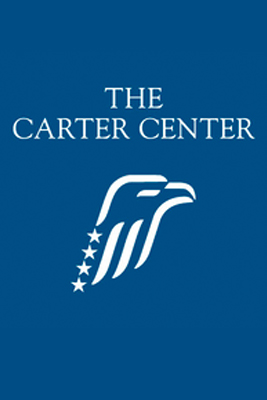 Dr. Joseph Bock and Jean-Marc Akakpo, Ph.D. Candidate, among the experts invited
KENNESAW, Ga. (Dec 2, 2019) — Dr. Joseph Bock and Jean-Marc Akakpo were invited by the Carter Center to participate at the half-day roundtable expert conversation on Health and Peace in Mali on November 25.
The Carter Center's Conflict Resolution Program – Africa launched a Peace and Health initiative in Mali in September 2019. The Senior Program Associate in charge of this program reached out to experts in our School of Conflict Management, Peacebuilding and Development to seek their feedback on the emerging peace strategy in Mali. In addition to seeking feedback, the Carter Center wanted guidance from global health and development experts on potential programmatic impediments due to armed conflict.
Based on several months of field research, the feedback of the Ministry of Health, and their teams in Mali, the Peace and Health strategy formed as a collaborative initiative of the Conflict Resolution Program - Africa and the Guinea Worm Program for Central Mali. Their two-year strategy aims to improve peace and health outcomes in armed conflict settings by using health as an incentive for peace.
The roundtable was comprised of Dr. Joseph G. Bock, Director of the School of Conflict Management, Peacebuilding and Development, Jean-Marc Akakpo, Ph.D. Candidate in International Conflict Management, the Carter Center's Peace and Health teams, and other experts on peace in Mali. Experts shared their best practices and thoughts on the theory and field practice of health and development programs in context of violence to refine the theory and program the Carter Center developed based on the experiences of expert individuals in the field.