New Conflict Management Textbooks from KSU Faculty Released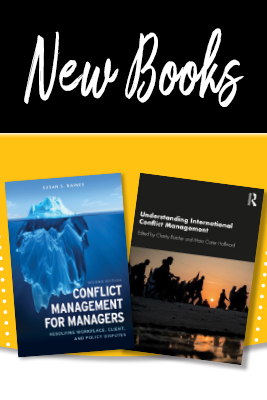 by faculty in the School of Conflict Management, Peacebuilding and Development
KENNESAW, Ga. (Dec 17, 2019) — by Susan S. Raines
Conflict Management for Managers: Resolving Workplace, Client, and Policy Disputes, 2nd Edition & Kindle Edition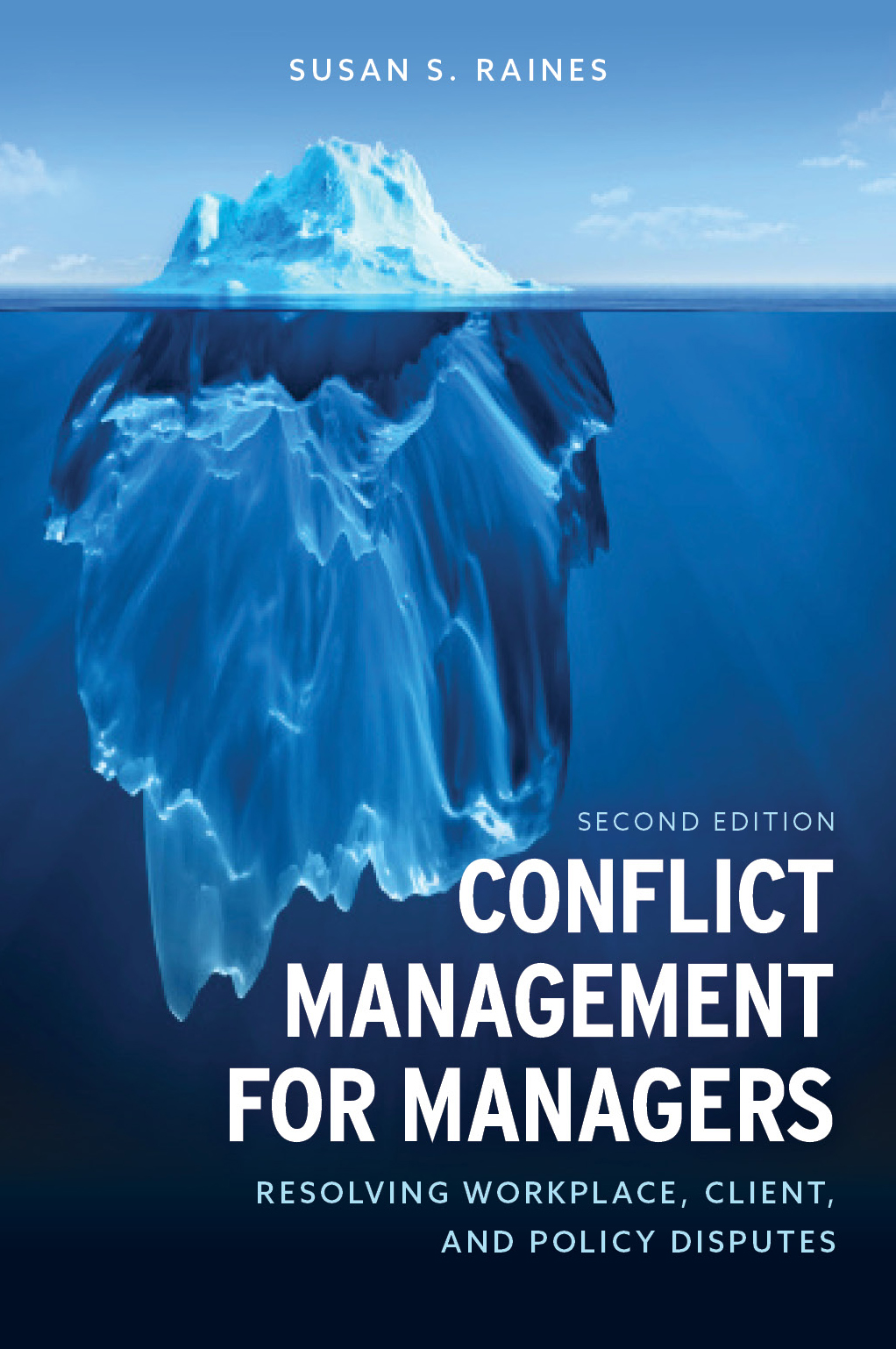 Conflict Management for Managers: Resolving Workplace, Client, and Policy Disputes provides current and future organizational leaders with the knowledge and skills necessary to prevent and manage every common source of conflict faced at work. Great managers and leaders understand they must communicate effectively, lead diverse teams, provide effective feedback, meet customer expectations, attend to organizational culture, and proactively manage relationships with vendors and regulators. This text provides skill-building exercises to help you lead effective meetings, build strong teams, conduct performance appraisals that motivate team members, coach employees and other managers through difficult times, and craft a positive brand image for both your organization and your own career.

The text is divided into three sections: Conflict Management & Collaboration basics, including assessments designed to rate your current skills and set goals for growth; Strategies for preventing conflicts inside your work teams and organizations, including tips for giving feedback, motivating team members, and creating positive organizational cultures; and Processes and skills for enhancing relationships with external stakeholders such as customers, vendors, and regulators. Thoroughly updated, this new edition incorporates a greater number of skill-building exercises, discussion questions, and goal-setting suggestions to allow for the active transition of these skills from the printed page into your daily work life.
Review
"There is always that small chance when writing a follow up to a wildly successful book that it won't live up to the reception the first edition received. In this case, Raines took a well calculated risk and managed to far exceed the highest of expectations. This second edition stands on its own as a major contribution to the field. Raines continues to provide one of the clearest and practical presentations of conflict management methods, models, tools, frameworks and practical intervention advice. All three sections have been reworked to include new timely material as well as more information on areas of practical applications that will resonate with managers, practitioners, professors and trainers."
— Brian Polkinghorn, Distinguished Professor, Bosserman Center for Conflict Resolution, Department of Conflict Analysis and Dispute Resolution, Salisbury University
Buy Now
Instructors: Request a FREE desk copy from Rowman & Littlefield
---
Understanding International Conflict Management, 1st Edition
Edited by Charity Butcher, Maia Carter Hallward

This new textbook introduces key mechanisms and issues in international conflict management and engages students with a comprehensive interdisciplinary approach to mitigating, managing, and transforming international conflicts.

The volume identifies key historical events and international agreements that have shaped and defined the field of international conflict management, as well as key dilemmas facing the field at this juncture. The first section provides an overview of key mechanisms for international conflict management, such as negotiation, mediation, nonviolent resistance, peacekeeping, peacebuilding, transitional justice, and reconciliation. The second section tackles important cross-cutting themes, such as technology, religion, the economy, refugees and migration, and the role of civil society, examining how these issues contribute to international conflicts and how they can be leveraged to help address such conflicts. Each chapter includes a brief historical overview of the evolution of the issue or mechanism, identifies key theoretical and practical debates, and includes case studies, discussion questions, website links, and suggested further reading for further study and engagement. By providing a mixture of theory and practical examples, this textbook provides students with the necessary background to navigate this interdisciplinary field.
This volume will be of great interest to students of international conflict management, conflict resolution, peace studies, and international relations in general.
Review
"This book provides an exceptionally comprehensive and compelling collection of insights on international conflict management. Hallward and Butcher have brought together the voices of top contributors from around the world who expertly integrate findings from theory and practice while grappling with both historical and newly emerging issues and ideas. The volume will be a must-read text for students and also a valuable resource for scholars and practitioners."
—Julie M. Norman, University College London (UCL), UK
Buy Now

Instructors: Request a FREE inspection copy from Routledge
---
Textbook Brownbag Luncheon