Authors Discuss Conflict Management Textbooks and Offer Advice on Tenure, Publishing, and Time Management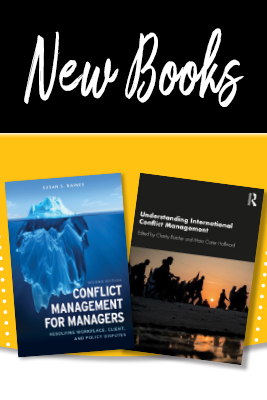 Susan Raines, Maia Hallward, Charity Butcher discuss their new textbooks in Conflict Management
KENNESAW, Ga. (Feb 14, 2020) — "You can't be conflict avoidant if you're going to be a manager," says Susan Raines, as she kicks off the textbook discussion. "Alternatively, you can be a conflict-aholic. If you or someone you work with is, this book is for you!" Conflict Management for Managers: Resolving Workplace, Client, and Policy Disputes, 2nd edition discusses organizational, community, and workplace conflict. It's especially useful for managers who deal with difficult employees—the Eeyores, divas, rock stars, and employees who have checked out of the job, but just haven't quit.
According to Raines, she wanted to publish a second edition to address changes that were suggested by experts in the field who utilize the book regularly in their classes and workshops as well as evolution of the field as a whole. Since the book is used to train national ombuds, a chapter was added in the 2nd edition to coach ombuds.
Other sections that were added:
Diversity and Inclusion
Strategic Leadership
Organizational Culture Change (i.e. Uber case study)
A Ph.D. student in the audience asked if people can adapt overtime to different conflict styles, or if they fall into old habits? According to Raines, the five conflict styles are to avoid, collaborate, compromise, accommodate, and compete. According to Raines, over our lifespan, we naturally evolve and change, especially when coached. Education and skill building help increase our adaptability to conflict styles.

Butcher and Hallward on Understanding International Conflict Management
According to Butcher, the inspiration for Understanding International Conflict Management came from searching for a textbook that filled the gaps between broad mechanisms used in conflict management and issue areas in the field. They felt their textbook should combine broad mechanisms, issue areas, case studies, discussion questions, and engagement ideas in conflict management. They also wanted an opportunity to add chapters on buzz topics such as transitional justice, reconciliation issues, gender and identity, refugee migration, and other emerging global issues.
One of the most exciting opportunities of the textbook was the ability to showcase the strength of the faculty and students from the School of Conflict Management, Peacebuilding and Development through their research and written chapters. Of the 17 chapters in the textbook, 13 of the chapters were written by or in collaboration with a student or faculty member from the School of Conflict Management. This is a great way to demonstrate the interdisciplinary nature of the Ph.D. in International Conflict Management program.
KSU Contributors
Chapter 3: International Negotiation Thomas Doleys and Timothy Hedeen
Chapter 4: International Mediation Susan Raines and Brittany Foutz
Chapter 5: Nonviolent (Civil) Resistance in International Conflict Management Maia Hallward and Lina Tuschling
Chapter 6: United Nations Peacekeeping in International Conflict Management Volker Franke and Karen Guttieri
Chapter 8: Transitional Justice Maureen Wilson and Edwin N. Njonguo
Chapter 11: Information and Communication Technologies for Peace: A Primer for the Peacebuilding Community Madhawa "Mads" Palihapitya, Pasan Palihapitiya, and Joseph G. Bock
Chapter 12: Gender and International Conflict Management Debarati Sen, Loubna Skalli Hanna, and Nicole Junker
Chapter 13: Ethnicity, Religion and Conflict Management Charity Butcher and Kathleen Kirk
Chapter 14: Economic Issues in International Conflict Marcus Marktanner, Almuth Merkel, and Luc Noiset
Chapter 15: Refugees and Migration Brandon Lundy and Sherrill Hayes
Audience Q&A
Do you write a book and then look for a publisher OR do you look for a publisher and then write the book?
According to the Raines, Hallward, and Butcher, you write a book proposal and pitch it to publishers first and then write for the publisher's audience. This way, you do not risk losing chapters or content you've already written.
What does the peer review and publishing process look like for books?
The first step in publishing a book is to submit a proposal and a couple chapters then receive feedback and approval to move forward. At this point, editors collect the rest of the chapters to submit a full manuscript for peer review. Once reviews are returned, editors and authors revise the manuscript for the final copy edit stage. Through this process, sometimes chapters get denied or removed, so editors must decide if they can add some of the material to other chapters or if they must remove the content entirely. The goal is to offer chapters that fill a niche for courses in taught in the subjects of the textbook. If the chapters are not based on program curriculum, then peer reviewers who teach in these programs will not approve for the chapters to stay in the textbook.
How do you set aside enough time to write a book along with working full time and other life obstacles?
Raines gave an example: Let's say a publisher gives you approximately 12 months to write 600 pages. You could either devote an hour a day or divide the number of pages you need by the time to figure out how much you should devote a week. In Raines' case, she used the second formula to devote a large chunk of time in one sitting each week.
Tips on getting tenure
Publish as much as possible, articles and books
Start with articles to learn the full process of publishing
Publish your dissertation as part of a book volume or chapter, or a book as a whole
---
Overall, the dynamic discussion offered a great opportunity for the authors to discuss their textbooks, some of the faculty to discuss the chapters they contributed, and Ph.D. students to learn about the publishing process. We are extremely proud of our faculty and students' accomplishments!
-Nicole Connelly