Finding Solidarity Amongst Severity in Bergamo, Italy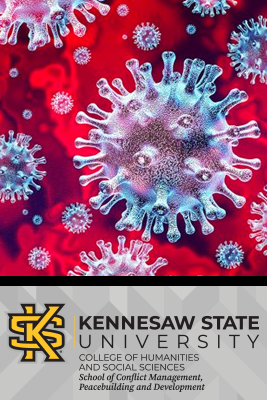 Ph.D. Candidate, Vittorio Indovina, recounts positive outcomes of COVID-19
KENNESAW, Ga. (Apr 9, 2020) — Until the COVID-19 virus heavily spread in Italy, I bet most of you never heard about Bergamo, the city where I come from. Newspapers worldwide reported the dramatic situation the local people were facing due to the virus. The most shocking image was probably the one of military trucks loading and carrying away dozens and dozens of coffins. Since the local crematory could not cope even working 24 hours per day, soldiers brought those coffins to crematories in other regions. Today, Bergamo counts are officially a few thousand of victims for COVID-19, and the highest COVID-19 mortality rate in Italy, maybe even the world.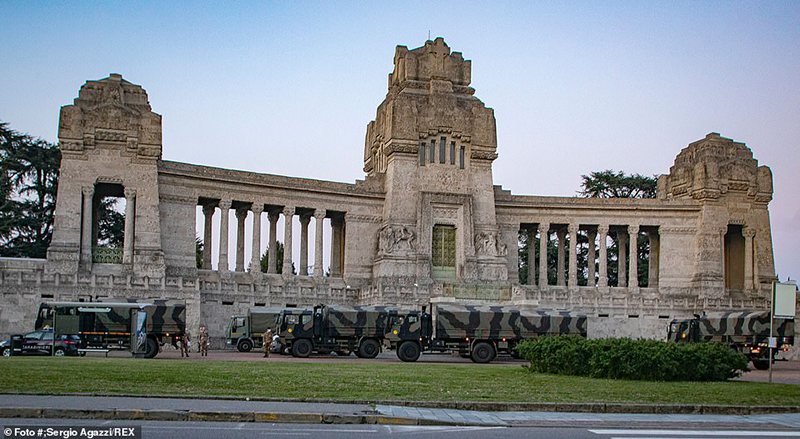 Italian army trucks are parked next to a monument in Bergamo yesterday as they prepared to take coffins out of the city. Photo credit, Sergio Agazzi.
I could not believe what was happening in a very short period in the place where I was born and spent a significant part of my life. Living in the U.S., my source of information about what is happening there are family, friends, and online media. A close friend of my family died for coronavirus three weeks ago. He died alone because his family was not allowed to enter the hospital where he spent the last two days of his life. He was buried in the local cemetery without any funeral or ceremony because the government banned any public rituals. Other people died alone because they were terminal–not because of coronavirus– and hospitals denied access to the public, including family, in order to prevent possible contamination. Dozens of local physicians and family doctors were infected while delivering their services and later died. Coronavirus killed many historical local entrepreneurs and other professionals. Emotionally speaking, my community is heavily affected by these events. A friend of mine experienced panic attacks in the past week, another one could not avoid crying every night.
There is a silver lining, however. Bergamo's local culture and identity played and is playing a significant role in coping with the situation. The average "Bergamasco" is often depicted as a closed-minded, serious, rough, hard worker. I can assure you that people there are exactly like that. Nevertheless, the typical Bergamasco has always shown a high sense of community and problem-solving skills. Thousands of local people quickly organized and volunteered to provide home delivery service to elders. Many people offered accommodations to medical staff coming from outside to help. Hundreds of contractors, workers, and local businesses organized on a voluntary basis and built in a few days a temporary hospital, increasing the local healthcare capacity. One of the top Italian chefs, who is from Bergamo, is currently providing daily meals to the medical staff working in the temporary hospitals. Many local industries re-oriented their production to provide free masks, respiratory valves, and other essential equipment.
Of course, Bergamo is a highly industrialized area and has many resources, and this means a lot. Elsewhere, it might not be the same. However, the sense of solidarity of Bergamaschi goes well beyond the local boundaries. People from Bergamo have always been pro-active and solidarity-oriented. They rarely deny help to other Italian regions in time of need. For instance, only a few hours after a violent earthquake occurred somewhere in the southern Italy a few years ago, trucks from Bergamo were ready to deliver human resources, equipment, and goods. Some important international NGOs, such as CESVI, one of the biggest humanitarian organizations in Italy, have been founded and are headquartered in Bergamo.
A few weeks ago, someone wrote a poem for Bergamo saying:
"Bergamaschi do not like challenges, but for some reason they always win. And when it is the time to collect the prize, they have already gone."
I found this assertion a bit romantic and well reflecting of the local attitude to not necessarily seek visibility at all costs when performing good actions.
Solidarity is critical for conflict management, peacebuilding, and development. Conflict professionals and researchers should devote more attention and resources to mechanisms that favor the institutionalization of solidarity within social groups. Bergamo is certainly a potential case study, and I am sure that in this small planet there are many.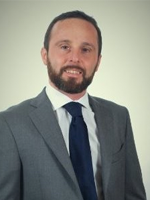 Vittorio Indovina is an ADR specialist, mediator and trainer from Bergamo, Italy. He is also a Graduate Research Assistant and Ph.D. Candidate in International Conflict Management in the School of Conflict Management, Peacebuilding and Development at Kennesaw State University.