The School of Conflict Management, Peacebuilding and Development has MOVED
to Campus Loop Rd. House 59
KENNESAW, Ga. (Jul 24, 2020) — Our School was formed as an umbrella for MS in Conflict Management, PhD in International Conflict Management and Center for Conflict Management, our operational arm. The idea behind the formation of the School is that we can accomplish more by virtue of synergy among these three units.
We were pleased to get offices in the Mathematics in Statistics Building whereby many of our faculty members could have offices close to one another. These offices have served us well, and the large conference room in the center of the second floor has been convenient for class sessions, workshops, meetings and social events. One of our dreams, however, has been to have a building of our own which can enhance the synergy among the three units of our School and help us form a distinct identity. That is why, when I was contacted by our Dean of the College of Humanities and Social Sciences, Dr. Shawn Long, I was excited to learn that we were being offered an opportunity to move to 3201 Campus Loop Road (also called "House 59").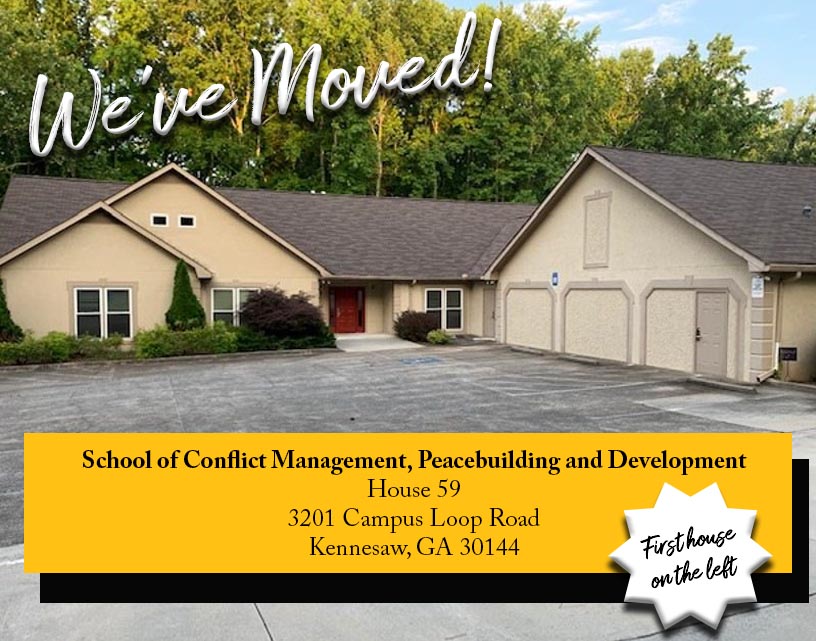 Given that it was summer and therefore difficult to contact some of our faculty, I asked for input on this decision from our School Faculty Committee. We decided to hold a video walk-though of the building which resulted in additional input from many of our faculty and staff members.
Ultimately, we concluded that moving to House 59 had more advantages than disadvantages. The disadvantage is that we will be in a less central part of the Kennesaw campus compared to the Mathematics and Statistics Building. The advantages are, first, the house has two large classrooms that we can use for our classes, workshops and events. Second, it has a nice conference room. Third, it has numerous large offices, some of which will be converted into smaller offices as we are able to secure funds for remodeling. Fourth, it has a deck, which will be a convenient place to hold classes and workshops outside, weather permitting. And, fifth, because we can put the name of our School on the sign in front of the House. Since the house is located at the beginning of Campus Loop Road our School will be easier to find. Eventually, working closely with Christina Alexis, Director of Development for our College, we can use this as a naming opportunity which, it is hoped, will help us secure a sizable donation for an endowment for our School.
What does this mean? Yes, it will mean walking longer distances to get to other places on campus. But it also means that we can work more closely together, enhancing our focus and sharpening our sense of purpose. With our talented and hard-working faculty and staff members, I have no doubt that it will result in more high-quality research, enhanced publishing, and expansion of service, both locally and globally.
-Dr. Joseph G. Bock, Director, School of Conflict Management, Peacebuilding and Development