M.S. in Conflict Management Ranked Top 10 Nationally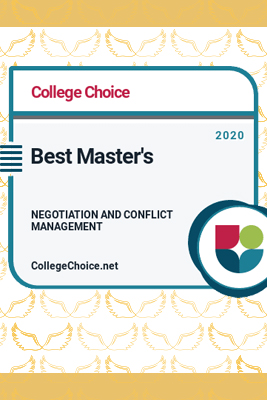 by College Choice
KENNESAW, Ga. (Nov 11, 2020) — College Choice scans the United States for the top degrees around the country. The M.S. in Conflict Management made this year's Top 10 list for Best Master's Degrees in Negotiation and Conflict Management. Of the schools listed, Kennesaw State University is the #1 public school on the list and one of the most affordable!
Find your wings at KSU!
-----------
Resolve your vocational crisis with one of the nation's best master's in negotiation and conflict management degrees.
by CollegeChoice
Are you passionate about resolving complex issues with compassion, ingenuity, and sustainability? Can you envision yourself leading teams of equally inspired people to enact change at micro and macro levels?
Then a degree in conflict resolution may be for you!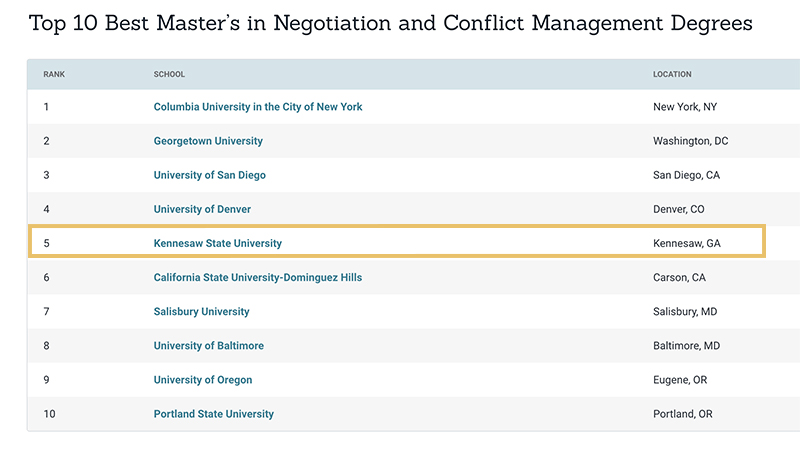 What kind of master's in negotiation and conflict management degree should you get?
Each of the 10 programs on our list will provide a foundation in conflict resolution fundamentals. No matter which school you graduate from, you'll be ready to tackle complex problems and negotiate tricky scenarios. However, each of these programs vary from one another in specialization, title, and scope.
For example, while Georgetown offers an interdisciplinary degree that borrows from several of its departments, the California State University Dominguez Hills provides post-graduate certification and specialization.
Be sure to find the best fit for you and your career goals. Here at College Choice we've been sure to note the nuances of each program, including those that offer joint degrees and immersive internship opportunities.
And speaking of opportunities, though most of the degrees below are traditional, on-campus programs, perhaps you should consider online education. Distance learning is a flexible, affordable way to earn your degree. So, be sure to check out College Choice's Best Online Colleges and Universities.
How much money do people make with a master's in negotiation and conflict management degree?
With one of these master's degrees in conflict resolution you will be prepared for work in diverse career settings (more on that below). That means the average salary of those with such a degree can vary. But rest assured, the field is notably lucrative and stable.
For example, arbitrators, mediators, and conciliators earn around $60,000 according to the Bureau of Labor Statistics. However, with added specialization and certification, which these degrees surely provide, you can make upwards of $78,000, according to PayScale.
Finally, the Bureau of Labor Statistics projects a 10 percent industry growth in the next few years alone. Meaning, upon graduation you will be in high demand!
What can you do with a master's in negotiation and conflict management degree?
With one of these degrees in hand you can find yourself working in an array of industries, from healthcare to government, education to administration. Which is to say, a master's in negotiation and conflict management unlocks innumerable vocational doors.
And because several of the 10 programs below encourage you to combine the degree with one in another field, your options only expand. You will have the skills and knowledge to go into law, medicine, political science, social work, analysis, and more.
Indeed, graduates from these 10 programs have gone on to become:
Government mediators
Third-party neutrals
Legal consultants
Union representatives

What are the requirements for a master's in negotiation and conflict management degree?
To earn a master's in negotiation and conflict management you are looking at one year of full time study at least. Though most of these programs are more involved, requiring two years and an internship, to graduate.
In the first term or the first full year you will explore conflict resolution principles. This includes classes on mediation, negotiation, resolution strategies, and more. From there you will have the opportunity to explore specialized areas of conflict and negotiation through electives such as intercultural conflict, environmental conflict, and more.
What are the best master's in negotiation and conflict management degrees?
While some of these programs are offered through large research universities and others through smaller public schools, all 10 share one thing in common: they are the nation's best graduate conflict management programs.
To find the best we first examined each school across the nation offering the degree. From there we narrowed our list by determining key factors such as national reputation and retention. Then we took into account the salaries of graduates and tuition rates to get an idea of the return on investment.
Our comprehensive research thus led us to the nation's best programs for training new leaders in negotiation, mediation, and conflict resolution.