How Legal Professionals Benefit from Conflict Management Training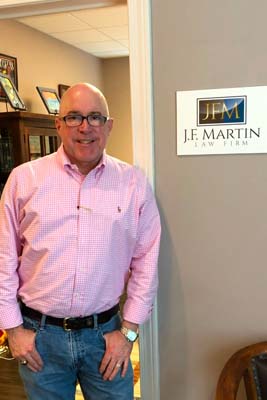 Why some attorneys become mediators
KENNESAW, Ga. (Jan 5, 2021) — Over the past several years, attorneys and other legal professionals have pursued conflict management and Alternative Dispute Resolution (ADR) training in order to do work both in and outside of the court system. The series of different types of ADR is often referred to as the ADR Continuum. The continuum continues to expand and has a wide variety of processes including negotiation, mediation, arbitration, conciliation, and ombudsing. A very popular form of ADR that seems to spark both attorney and non-attorney is mediation.
John Martin has been practicing law for 22 years, primarily concentrating in family law, and he is currently pursuing the Master of Science in Conflict Management (MSCM) degree despite his vast experience in law. John says based on his experience and knowledge, he thinks mediation is one of the most practical paths of trying to resolve a dispute (Erica Bowdre, personal communication, December 7, 2020).
So, why add a conflict management degree? Simply because mediation allows individuals to potentially be understood and resolve their disputes without any court intervention. As an attorney, John has been through many mediations and arbitrations, and would usually be representing one of the parties. When asked why he chose to pursue the MSCM degree, John said, "Phenomenally, I don't think every disagreement should warrant a lawsuit. Greater than half can be resolved without the need of a lawsuit," (Erica Bowdre, personal communication, December 7, 2020). He added that in many scenarios, hostilities increase during a lawsuit.
Mediator vs. Attorney: What's the Difference?

As Beer and Packard mention in The Mediator's Handbook, which is one of the assigned book readings for the MSCM program, mediation is "a process for resolving disputes where an intermediary helps conflicting parties have a conversation to jointly resolve their concerns." While a mediator is expected to be neutral and simply facilitate the dispute, an attorney will regularly offer advice and speak on behalf of his or her client. In addition, many dispute resolution processes that involve attorneys take much longer to be resolved.
From John's perspective, mediation opens up a plethora of opportunities for society. "There is a population of citizens who are disenfranchised from receiving justice or being heard because of a lack of funds and other obstacles, and that always bothered me," he explained (Erica Bowdre, personal communication, December 7, 2020). John also stated that his interest in conflict management and mediation grew because he believes the process of mediation opens up an efficient and adversary process.
Why Pursue the MSCM degree from KSU?
When asked why he chose to pursue the MSCM degree at KSU, John stated that it was a "pure act of God" that he was able to find such an extraordinary program so close to where he lives. "I did look into others, but KSU was extremely reasonable in price, and well put together with a diverse population of professors and students," (Erica Bowdre, personal communication, December 7, 2020).
Upon completion of the degree, John will continue to practice law and mediation. However, due to the current climate of society, his main focus will be mediation. He says he will be selective with his legal cases.
"Everyone has the opportunity to make this better. If we want a better community and better society, let's leverage what we have in front of us," he said. Completing the MSCM degree, which involves mediation training, opens up the opportunity for John and many others to do so.
By: Erica Bowdre, MSCM Student
References
Beer, J. E., Stief, E., & Packard, C. C. (2012). The mediator's handbook. Gabriola, B.C: New Society Pub.