Led by anthropology professor Brandon D. Lundy, journal receives first impact factor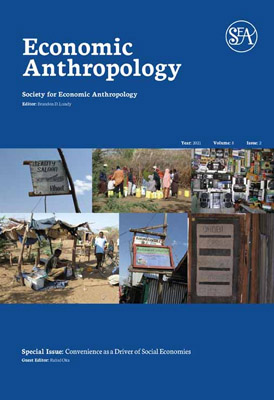 KENNESAW, Ga. (Jul 7, 2021) — Under the editorship of Kennesaw State professor of anthropology Brandon D. Lundy, the journal Economic Anthropology just received its first Impact Factor (3.439), ranking it sixth out of 88 anthropology journals. Impact factor reflects the yearly average number of citations of articles published in the last two years in a given journal. Lundy has been its editor-in-chief since 2017.
"In 2013, the 30-year-old and fiercely independent Society for Economic Anthropology (SEA) came into the fold of the American Anthropological Assocation (AAA) as an official section. Alongside this integration, SEA founded a new journal, Economic Anthropology," said Lundy. "This new journal has surged quickly in readership to become the fastest growing of all 37 AAA publications."
After receiving its first impact factor, Economic Anthropology has been recognized as a top tier journal in the field ahead of the other publications in the AAA for 2020.
"I am humbled by the journal's success, which in no small part is thanks to our exceptional authors generating exciting content. I wish to extend my sincerest congratulations to the journal's Editorial Board as well as the founding editors, Lisa Cliggett and Kate Browne, who built the journal's solid foundation," continued Lundy. "Also, congratulations to all of the Guest Editors, managing editors, authors, reviewers, and everyone else who has worked tirelessly to make the journal a success. Please keep reading, citing, and disseminating Economic Anthropology!"
Upon receiving the news about the journal's impact factor, Janine McKenna, Director of Publishing, American Anthropological Assocation, congratulated the team: "This is wonderful and amazing and so many other adjectives! Thanks to you and SEA and Kennesaw State for all of the hard work and resources to make the journal so successful!"

Longtime SEA member Rich Wilk, Distinguished Professor Emeritus, Department of Anthropology, Indiana University Bloomington, explained, "Not just a real recognition of the hard work and scholarship of the founders, editors, authors, and supporters of the journal- also a sign of the vitality of the SEA and the central importance of economic anthropology in these times! Many congratulations!"
Former EA editor and University Distinguished Professor, Emeritus, in the Department of Anthropology and Geography at Colorado State University concurred, "This is spectacular news and a defining milestone in the life of Economic Anthropology. Thank you for your stellar leadership and commitment to the success of the journal, and thanks to all contributors for the work that made this achievement possible."
In addition to his work in the Department of Geography and Anthropology, Lundy serves as the Associate Director of Academic Programs in the School of Conflict Management, Peacebuilding and Development.