Workplace Buzzwords: Conflict management and the need for diversity and inclusion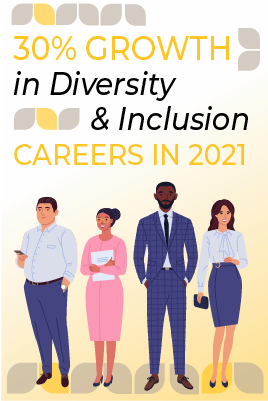 and how the M.S. in Conflict Management is reaching a growing career field
KENNESAW, Ga. (Feb 26, 2021) — What is diversity and inclusion and why is it one of the fastest growing fields today? Diversity and inclusion generally refers to organizational climates which celebrate and acknowledge the education, personalities, skillsets, and experiences of all members without any exclusion or discrimination on the basis of race, ethnicity, gender, age, religion, physical and mental ability, and sexual orientation.
While diversity and inclusion are not new concepts, many companies, schools, and other organizations are prioritizing diversity and inclusion to decrease employee turnover and increase collaboration among organization members (Mondal, 2020). Forbes Insights recently shared a survey of over 300 senior executives which found that "56% of the companies surveyed strongly agree that diversity helps drive innovation" (Mondal, 2020).
Thought leaders at Forbes confirm that diversity boosts innovation and financial results:
The workplace environment that supports a diverse workforce exemplifies best practices for an engaged healthy culture. Each employee knows that their voice will be heard, and that they are a valued part of the team. Everyone knows they are safe in expressing differing viewpoints and perspectives regardless of age, background or experience level. (Levine, 2020)
Corporate responsibility for diversity and inclusion
Beyond workplace productivity, organizations are becoming more conscious of their role as leaders and allies in today's interconnected world. The events of 2020, specifically the deaths of Ahmaud Arbery, George Floyd and Breonna Taylor, "sparked outrage and fueled mass protests against system racism and police violence in more than 2,000 U.S. cities and 60 countries around the globe" in support of the Black Lives Matter movement (History, 2020). To show their support of diversity and the Black Lives Matter movement, many Fortune 500 companies, technology, and big box stores – such as, Google, Amazon, Walmart, Apple, Microsoft, Home Depot, Coca-Cola, Nike – have pledged financial support and statements vowing to stand against discrimination and injustice (Livingston, 2020). Their support for social justice shows the need for equality in the nation as a whole, but also the need for lasting change and equal opportunities in the workplace.
Although the corporate pledges are a start, employees want more progress on diversity and inclusion in the workplace to help close the gap of economic inequality. To support their pledges, corporations are creating roles dedicated to training and implementing diversity and inclusion in the workplace to show their support. These specialized professionals have been on the rise for years, but Glassdoor projects a 30% growth in diversity and inclusion postings in 2021. In fact, a quick search on indeed.com today will show nearly 1,400 career opportunities nationwide.
How do diversity and inclusion and conflict management intersect?
As part of Master of Science in Conflict Management's 16-month degree program, students may select courses in peacebuilding, nonviolence, organizational leadership, interpersonal/intergroup conflict, and diversity and inclusion. The course on diversity and inclusion gives students a firm foundation to reflect on their bias, and understand how to apply their conflict management skills to promote social justice by addressing conflicts involving diversity and inclusion.
In many instances, the need for diversity, inclusion, and conflict management go hand in hand within organizations. As a matter of fact, the relationship between conflict management and diversity and inclusion is so strong that our conflict management alumni are currently holding diversity and inclusion positions.
Concluding Thoughts
Organizations are becoming more aware of their social responsibilities and are raising questions about social justice in the workplace to promote diversity and inclusion. Put simply, companies have a fiduciary duty to create an inclusive organizational culture that reflect the communities they serve, and are now hiring diversity and inclusion specialists to increase employee satisfaction and promote positive workplace climates. The workplace is shifting and conflict managers are in the right place at the right time.
Article by Nicole Connelly and Erica Bowdre
Resources:
Forbes. (n.d.). Global diversity and inclusion: Fostering innovation through a diverse workforce. Forbes Insights.
Glassdoor. (2020). Workplace trends 2021. Glassdoor.
History. (2020, December 17). 2020: The year in events. History.com.
Livingston, M. (2020, June 16). These are the major brands donating to the Black Lives Matter movement. cnet.
Mondal, S. (2020, November 1). Diversity and inclusion: A complete guide for HR professionals. ideal.