Dr. Brandon Lundy and Students Help Restore U.S.- Guinea-Bissau Relations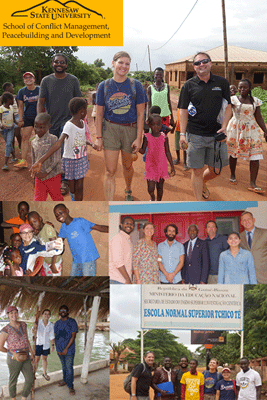 KENNESAW, Ga. (Aug 31, 2018) — On January 12, 2015, Dr. Brandon D. Lundy, Associate Director of the School for Conflict Management, Peacebuilding and Development and Associate Professor of Anthropology at Kennesaw State University, was invited as a country specialist to participate in an Executive Analytic Exchange on Senegal and Guinea-Bissau for the then incoming Ambassador to Senegal and Guinea-Bissau James Zumwalt (March 10, 2015 – January 19, 2017). Three years later, Dr. Lundy was invited to Guinea-Bissau as a Fulbright Specialist hosted by his colleague and the vice-Rector of the public University of Amilcar Cabral in Bissau, Dr. Raul Mendes Fernandes. Dr. Fernandes had just spent 2015-16 at KSU as a Fulbright scholar-in-residence as part of the Year of the Portuguese-speaking World program. In an effort to expand their work together, Dr. Lundy and Fernandes, in collaboration with Dr. Joana Sousa of Lusofona University's Environmental Sciences program and the Instituto da Biodiversidade e das Áreas Protegidas (Institute of Biodiversity and Protected Areas), developed an environmental studies project aimed at better understanding millennials perceptions of the environment in the era of global climate change. Dr. Lundy traveled to Guinea-Bissau in July 2018 with three KSU undergraduate students studying Anthropology, Geography, Psychology, Environmental Studies, and Portuguese.
In an August 2018 report by Verisk Maplecroft,[1] heat stress will drive labor capacity loss that threatens human health, undermines exports, and disrupt global supply chains. The report identified West Africa as most at risk, with as much as 10.8 percent of the region's total export value in jeopardy by 2045. Guinea-Bissau is in the top ten countries in the world with the lowest average elevation. The coastal parts of the country are so low and flat that tidal waters can wash as far as 62 miles inland. Furthermore, Guinea-Bissau's littoral, the Bissagos Archipelago, maintains a high diversity of ecosystems with mangroves and intertidal zones of great significance to many Atlantic Ocean species as spawning grounds. The archipelago was declared a UNESCO Biosphere Reserve in 1996. Guinea-Bissau's southern forests are considered some of the most dense northern forest areas in West Africa with a wide-array of accompanying flora and fauna. Guinea-Bissau faces a number of environmental concerns including deforestation, soil erosion, overgrazing, overfishing, desertification, land conflict, loss of biodiversity, climate change, and endangered species.
Dr. Lundy and his students traveled to Guinea-Bissau with three objectives:
to meet with experts to better understand the ongoing challenges and potential solutions facing the country's natural environment;
to collaborate with university faculty and students to get a clearer picture of millennials perceptions of their natural environment; and
to identify and share significant resources and potential research opportunities.
Dr. Lundy's team was only the second educational-cultural initiative greenlighted by the U.S. Embassy to travel to Bissau since its renewed operations in 2014, and the first involving U.S. students abroad. The first was a Fulbrighter hired to teach English as a foreign language. He was placed at the Tchico Te Teacher Training College, where he instructed future high school English teachers who would eventually be placed throughout the country. Because both Dr. Lundy and the other Fulbrighter in his second year in the country were both returned Peace Corps volunteers, they advocated to the U.S. Ambassador for the return of the program to Guinea-Bissau.
There is no permanent U.S. Embassy in the West African nation of Guinea-Bissau. Furthermore, Guinea-Bissau does not maintain a consulate in the United States, although it does have a permanent mission to the United Nations in New York. The U.S. Ambassador to Senegal, who resides in Dakar, is accredited as the U.S. Ambassador to Guinea-Bissau. All official U.S. contact with Guinea-Bissau is handled by the U.S. Embassy in Dakar, which maintains a U.S. Virtual Consulate in Guinea-Bissau. Local employees staff the U.S. Liaison Office in Bissau. The current U.S. Ambassador to Senegal and Guinea-Bissau is Tulinabo S. Mushingi, PhD., who was nominated by President Trump on February 28, 2017 and confirmed by the U.S. Senate on May 18, 2017.
The U.S. recognized Guinea-Bissau's independence on September 10, 1974 and opened an embassy in the capital city of Bissau by 1976. In 1998, as Guinea-Bissau became embroiled in a devastating conflict, the U.S. Embassy and other U.S. supported programs such as the Peace Corps suspended their operations. Most recently, President Jose Mario Vaz's inauguration on June 23, 2014 led to the lifting of U.S. foreign assistance restrictions to Guinea-Bissau imposed in the wake of the April 2012 coup. According to the U.S. Virtual Consulate's website, "While the United States is expanding its programs and presence in the country as a statement of our support for the elected government, optimism remains guarded as the country has seen a mix of coups, attempted coups, civil war, assassinations, and democratic elections."[2] Since Guinea-Bissau's independence, no democratically elected president has successfully served a full five-year term in office.
[1] Newman, Alice, and Richard Hewston. 2018. Heat Stress: Threatens to undermine export economies and disrupt global supply chains. Future Climate: Heat Stress & Cooling Degree Days. Verisk Maplecroft, August.
[2] https://gw.usmission.gov/our-relationship/policy-history/