Psychology Lab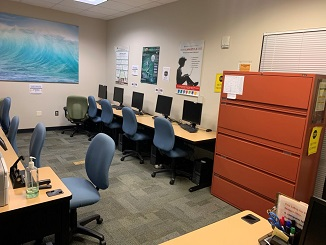 Welcome! Please follow this link to view a brief promotional video about the KSU Psychology Lab.
The KSU Psychology Lab is a resource center for all psychology majors and minors. The lab is located on the Kennesaw Campus in the Social Sciences Building on the fourth floor, in Room 4026. It has 10 computers, available on a first-come, first-served basis. Students can use their KSU Student ID or a K-Cash card to print while in the lab.
As a resource center, Psychology Lab Student Assistants are available to answer your questions regarding PSYC 1101, PSYC 2500, PSYC 3000, and PSYC 4100 course content. Each of them generally has a specialty area, so be sure to inquire about this when seeking guidance. Please note that though they are available for assistance with your coursework and assignments, the Lab Coordinator and/or Student Assistant(s) cannot and will not work through an assignment with or for you. This would be highly unethical and is prohibited. Students may come to the lab with specific questions relating, but not limited to: APA-style, research and experimental design, statistical and data analyses, article searches, SPSS, and general PSYC 1101 content.
Papers will not be reviewed in entirety for proper APA style; For assistance with the writing process (e.g., rhetoric, organization, grammar, punctuation), students should consider scheduling an appointment with the KSU Writing Center. Assignment details are the students' responsibility. Each class has unique requirements and lab employees cannot be responsible for the content of assignments.
To reiterate the above information, the Lab Coordinator and Student Assistant(s) are available to answer questions but cannot provide primary instruction on these subjects.
***************
Currently, in addition to in-person services in our physical location (SO 4026), we also offer identical services via an online resource center, in D2L. Thus, during set business hours in the semester, students may seek in-person, walk-in assistance in SO 4026 on a first-come, first-served basis, and/or seek virtual assistance via D2L.
To request access to the virtual resource center in D2L, students should email (via KSUMail) the Psychology Lab Coordinator, Ms. Nicole Wilcox (nserpico@kennesaw.edu) with the following information: Name (first and last) and Student ID Number. Students are encouraged to request access to the KSU Psychology Lab D2L page early in their term of enrollment, so that they will have access to Psychology Lab resources as needed during the semester. To obtain the best possible Psychology Lab experience, every PSYC student who visits the Psychology Lab in-person will also be encouraged to request/obtain access to the virtual resource center in D2L.
***************
Fall 2022 Virtual Drop-In Information
The Psychology Lab is proud to provide Psychology majors with virtual professional development workshops. Psychology majors may view and sign up for Psychology Lab workshops in OwlLife.
Additional Notes:
Students will be required to join all workshop sessions using their KSU-affiliated Zoom account: https://kennesaw-edu.zoom.us
All workshops will be recorded for students who are unable to join live.
If you have questions regarding these virtual workshops, recordings, or signing up, please reach out to the Psychology Lab Coordinator, Ms. Nicole Wilcox at nserpico@kennesaw.edu
***************
Additional Student Guidelines

The Psychology Lab is available only for psychology majors and minors. During in-person services, due to the limited number of computers in the lab space (SO 4026), if you are not working on an assignment, you may be asked to make space for other students in the event that all computers are occupied. Although you are permitted to talk about your work in the Psychology Lab, please be respectful of others who are working by maintaining a low volume.

The Lab Coordinator and Student Assistant(s) are sometimes involved in scheduled meetings with students. This is particularly likely to occur during Fall and Spring semesters. Any time that we are not already meeting with another student, we will be glad to address any questions that you have. At this time, if you are interested in scheduling an appointment with a Student Assistant, please email the Psychology Lab Coordinator, Nicole Wilcox (nserpico@kennesaw.edu).

Upon receipt of your inquiry, the Lab Coordinator and/or Student Assistant(s) will request that you retrieve any and all notes and assignment content that you have. You will be instructed to look through all notes prior to being provided assistance with your questions.

We are here to help you understand difficult concepts by showing you how to arrive at the correct answer, not to provide the correct answer. Thus, we will assist with assignments only if you have made a good faith effort to complete the assignment prior to seeking assistance. It is unethical for us to help you complete your assignments by providing answers.

During in-person services, neither the Lab Coordinator nor any Student Assistant(s) may print any documents for you. Please come to the lab ready to print from your personal KSU Student ID card.

This is a lab for the Department of Psychological Science, not an open "APA lab." Only psychology majors and minors are permitted to utilize the resources of the lab.

The lab is a shared work space. During in-person services, for the safety of the computers, please finish your food and drink before coming here to work or leave them at the door. Please respect others by keeping conversations to a minimum and restricting cell phone use to the hallway. Put your phone on silent before entering the lab (when eligible), and do not answer it unless you take the call outside of the lab.

No books, binders, or other lab materials may be removed from the lab without the consent of the Lab Coordinator. During in-person services, please respect lab employees' schedules by leaving the lab at the time posted on the door or at the request of the lab staff. Failure to do so may result in the loss of lab privileges. Students will be expected to begin saving their work and logging off computers 5 minutes prior to the lab closing time.

Click here for a brief introduction to the 7th Edition of the APA Manual.

Click here to view/reference the official APA Style Guide.

Click here for a brief tutorial on proper formatting using the 7th Edition APA guidelines.

If you do not have Microsoft Office products on your personal computer, as a student, you may access these products for free through Office 365

Please join the Psychology Lab D2L page for access to additional resources!

Using SPSS (Statistical Package for the Social Sciences)

These videos are not intended to teach you how to calculate, comprehend, or interpret statistics. These videos are merely a tool to introduce you to the basic SPSS procedures you need to be familiar with to succeed in your statistics-based PSYC courses. You can learn how to conduct analyses with these videos, and there is another video in the above section to learn how to report the results in APA style.

You will get the most out of these videos if you have the programs open so that you can frequently pause the video, repeat the procedures yourself, and replay the segments as needed. This is the best way to remember what you watch in the tutorials. Each video has chapters so that you can jump to particular topics as needed.