Study Abroad
Venture to Vietnam 2023
May 31 - June 25, 2023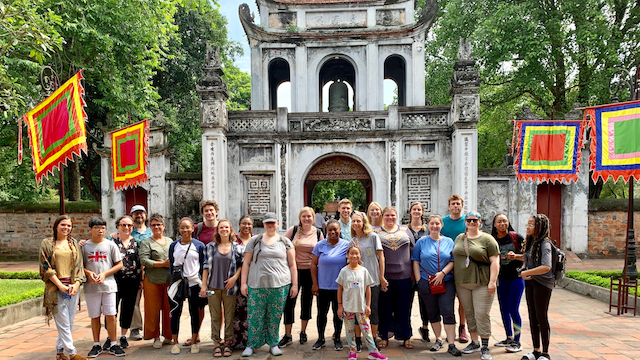 We are offering a fabulous study abroad opportunity in Vietnam for psychology students (majors, minors, and non-majors). The trip is a 23- day journey from North to South Vietnam, offering students a direct immersion into the culture of this country. Through classes, tours, food, and cultural engagement, students will explore Vietnam through a psychological lens. This international travel experience is ideal for students looking to expand their psychological knowledge, improve their resume, as well as broaden their global view.
Unlike traditional study abroad programs, our trip to Vietnam will include several different cities, different hotels and homestays, and very different foods based on the regions we visit. For this reason, this trip is ideally suited for a student that is flexible, mature, and culturally inquisitive and sensitive.
Two professors from the Department of Psychological Science will bring their knowledge and love of this country to this study abroad program. We will begin our trip in Hanoi, the capital of Vietnam. We will then travel north to Sapa, an area that is home to five different ethnic tribal groups. Students can then choose to take an overnight boat trip on Ha Long Bay and meander through the limestone pillars that come straight out of the sea. The group will fly to Central Vietnam and spend a few days exploring Hoi An, a beautiful trading town. Our next stop will be the coastal city of Da Nang. The group will take a train ride to the city of Hue, the former Imperial Capital of Vietnam. The group will fly to the South and experience another homestay in the Mekong Delta moving through a riverway, a forest, rice paddies, floating markets, and eating tropical food. We will move to Ho Chi Minh City and explore the lengthy war history of Vietnam with both the French and America. Students will have many opportunities along the trip for downtime, although this will be a packed, well-paced itinerary.
Participants can elect to enroll in 1-3 courses: PSYC 2103- Human Development in Vietnam (Prerequisite: PSYC 1101), PSYC 3775 - Psychology of Religion (Prerequisite: PSYC 110), and PSYC 4415- Sensation and Perception in Vietnam (Prerequisite: PSYC 2500).
Program Cost - $2,742. Students pay for airfare and courses separately.
We will only be taking 16 students with us, so please register quickly if you are interested.
If you have any questions, please email Dr. Nicole Martin at nmarti40@kennesaw.edu
Psychology in Peru 2023
June 4 - June 18, 2023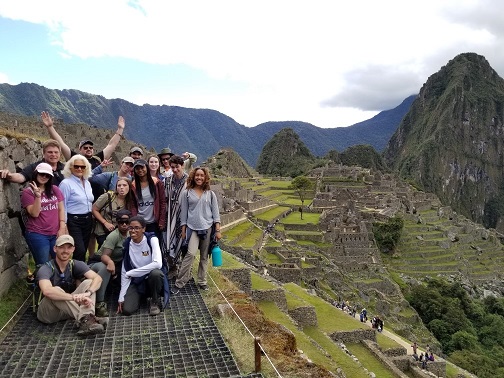 Join us for the 6th annual Psychology in Peru program, open to all majors. We will tour colonial Lima, Cusco, the center of the Incan Empire, Rainbow Mountains, the Sacred Valley of the Inca's, and the lost city of Machu Picchu, a Wonder of the World. Courses offered; PSYC 4490 Leadership: Cross-cultural Perspectives in Peru and PSYC 4490: Cross-Cultural Educational Psychology.
The program is an 15 day, once-in-a-lifetime educational, service-learning and cross-cultural experience. We visit the colonial Spanish capitol city of Lima for six days and explore the Andes for six days as we travel in the footsteps of the Incas along the Inca Trail through the Sacred Valley. Our exploration of Incan culture begins Lima at the South Pacific Ocean, exploring an ancient pyramid structure pre dating the Inca civilization. The Incan capitol of Cusco is our next stepping off point as we traverse the Sacred Valley, shop in city markets where indigenous people sell handmade goods, and end at the mountain top holy city of Machu Picchu. A side trip takes to the majestic, beautiful Rainbow Mountains, that radiate multiple colors. All majors are welcome. Only PSYC 1101, General Psychology is required as a prerequisite.
An important element in your Peruvian culture engagement is the participation in two community service projects related to behavioral health; a children's center created for women empowerment, and a community supported gerontology center. View the video our KSU student travelers put together for the summer PiP 2019.
Only PSYC 1101: Introduction to General Psychology is required as a prerequisite. The six credit hours earned can be readily applied as electives (free or upper division) in most KSU degree programs.
Faculty leaders are Dr. Patrick Devine, a management and sport psychologist and Dr. Gail Scott, an educational psychologist. For more information, contact Dr. Devine (pdevine@kennesaw.edu) and/or visit the Education Abroad website.