Study Abroad
Multidisciplinary Studies in South Korea Summer 2022
July 1 - August 1, 2022
This multidisciplinary program will offer a choice of a combination of business, psychology, and Asian studies courses. Students will stay in Seoul at Soongsil University, study Korean culture and learn about psychology or business in Korea. Students will also engage in days trips to tourist locations and local organizations such as the DMZ, Geongbokgung Palace, and SM Town.
Psychology courses offered are PSYC/ASIA 4490: Asian and Asian-American Culture and Psychology and PSYC 3355: Cross-Cultural Psychology.
For more information visit Multidisciplinary Studies in South Korea or view this presentation to learn more about the program. If you have any questions about the program or application process, contact Dr. Zhan at gzhan@kennesaw.edu.
Psychology in Peru 2022
June 5 - June 23, 2022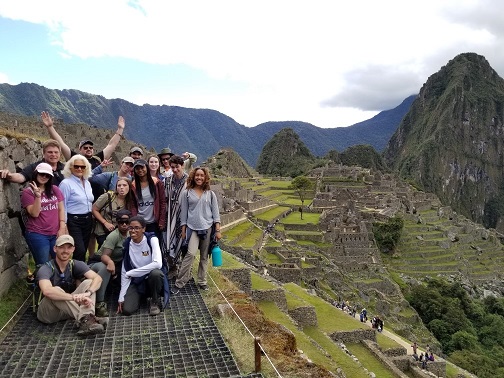 Join us for the 5th annual Psychology in Peru program. The program is open to all majors., You will tour colonial Lima, the Peruvian Amazonia rain forest, Cusco, the heart of the Incan empire, the Sacred Valley of the Inca's, and the lost city of Machu Picchu, a Wonder of the World. Along the way you will participate in two community service projects and earn six credit hours in 4000 level psychology course work. Courses offered; PSYC 4490 Leadership: Cross-cultural Perspectives in Peru and PSYC 4490: Cross-Cultural Educational Psychology.
The program is an 18 day, once-in-a-lifetime educational, service-learning and cross-cultural experience. You visit the colonial Spanish capitol city of Lima for ten days, Amazonia for three days and explore the Andes for five days as we travel in the footsteps of the Incas along the Inca Trail through the Sacred Valley. Our exploration of Incan culture begins Lima at the Pacific Ocean, exploring an ancient pyramid structure pre-dating the Inca civilization. We then head to Amazonia and the Peruvian rainforest where we will travel two-hours by boat to our remote riverside lodge to observe native wildlife and view incredible plants and flora for three days. You will hike rainforest trails, paddle river inlets, and visit Monkey Island to interact and feed a variety of monkeys that will snitch bananas right out your hands. The Incan capitol of Cusco is your next stepping off point as you traverse the Sacred Valley and end at the mountain top holy city of Machu Picchu.
An important element in your Peruvian culture engagement is the participation in two community service projects related to behavioral health; a children's center created for women empowerment, and a community supported gerontology center. View the video our KSU student travelers put together for the summer PiP 2019.
Only PSYC 1101: Introduction to General Psychology is required as a prerequisite. The six credit hours earned can be readily applied as electives (free or upper division) in most KSU degree programs.
Faculty leaders are Dr. Patrick Devine, a management and sport psychologist and Dr. Gail Scott, an educational psychologist. For more information, contact Dr. Devine (pdevine@kennesaw.edu) and/or visit the Education Abroad website.