Adobe Creative Jam Kicks Off with Record Registration!
KENNESAW, Ga. (Mar 3, 2022) — More than 300 KSU participants have signed up for the Adobe Creative Jam competition!

On the Kennesaw campus, a standing-room only crowd attended the kick-off. The Adobe Creative Jam is hosted for all KSU students by the Radow College of Humanities and Social Sciences (RCHSS) in partnership with the KSU Libraries.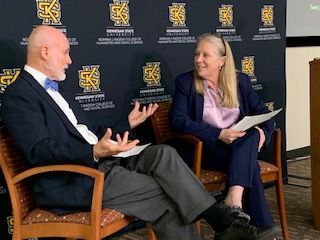 In her welcome, RCHSS Dean Katie Kaukinen said, "We are hopeful that this event gives you an opportunity to engage with KSU's creative community and prepares you with critical knowledge and skills to build your resume and prepare you for a rewarding career."

Students who create content in Adobe Rush as part of the competition will earn one of KSU's new micro-credentials in "Digital Storytelling with Adobe Premier Rush." The digital badge can be added to LinkedIn profiles and resumes.

The Jam submission deadline is March 18 at 11:59 p.m. The Creative Jam finale will be March 23 when winners will be announced.