Impact Stories
Every dollar donated makes a positive impact on our students' ability to succeed and our faculty's capacity to conduct relevant research. But, there's nothing like hearing directly from our students, faculty, and the donors who support them to fully understand how important it is to invest in the future of our communities, businesses, civic organizations, and educational institutions. Learn more about the impact we are having through the stories shared below.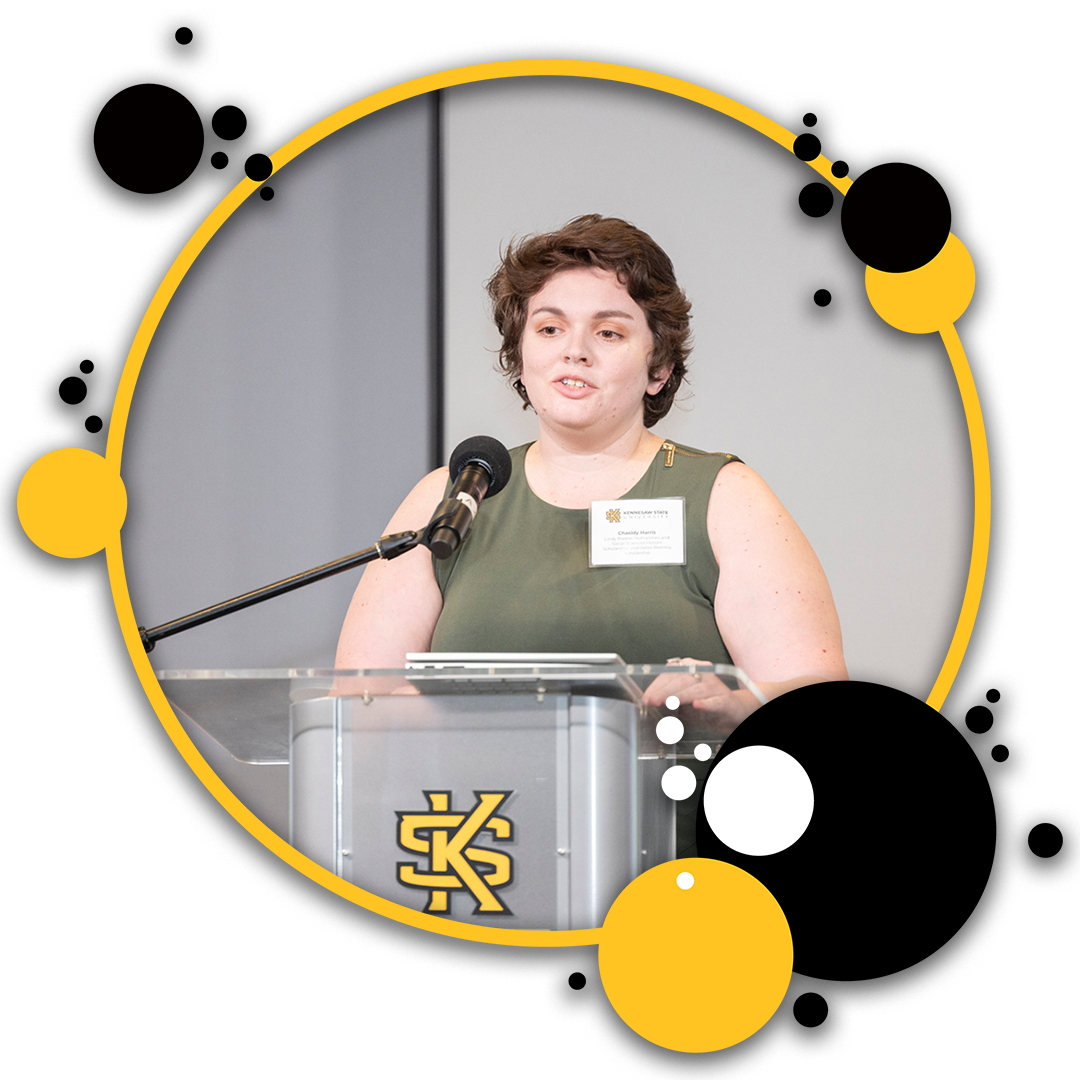 Chasidy Harris, Senior, Sociology major
Having been awarded a Lindy Radow Scholarship as well as the Osher Re-entry Scholarship, Chasidy Harris has some breathing room to finish her undergraduate degree with a little less stress. Additionally, the scholarships allowed her to save the necessary funds to study abroad, a long-time dream, and enabled her to finish her degree on schedule. Harris says, "It definitely would have taken me a little bit longer. Being able to study abroad I was able to get two credits that I needed to get my degree. Because of the way I came in [to KSU], I technically was a transfer student. So, my class schedule was packed for every semester so there was no real wiggle room. So, I would have either have had to graduate this summer or in the fall so the scholarships definitely helped a lot." Harris says the scholarships meant she did not have to take out more student loans and they relieved her stress, allowing her to focus on the work.
A self-described "non-traditional student," Harris works full time remotely and commutes to campus. When asked what she would say to Lindy Radow, the namesake of one of her scholarship awards, Harris said "Thank you for supporting our college and seeing the benefit of the humanities programs and how much we can bring to society."
Stacy Adams, Senior, English Education major
Stacy Adams is pursuing a dream that has been years in the making. As the eldest of four daughters raised by her single mother, Adams initially pursued an academic path that would have led to a more profitable profession, but it wasn't her passion. After two years she dropped out, worked for two years, then chose to pursue her calling to teach. As an English Education major graduating in May 2023, Adams is thrilled to have been awarded scholarships that will fully cover her senior year at KSU. She is the recipient of English Education Outstanding Future Teacher of Color Award, the Excellence in English Education Award, and the GAP Scholarship. Adams recounts that after logging in to her Owl Express finance account page and seeing the scholarships posted and a balance of $0.00, that the feeling was "indescribable."
"We just purchased a home and so I am learning the responsibilities of paying a mortgage and all the other things that are still on my plate, and so this was just one less thing that was weighing me down and the relief was amazing." She has been working full time and fulfilling the 20-hour required internship while still managing her courseload. Adams hopes to start teaching in August and plans to stay in the classroom for as long as possible. Her long-term ambitions are to stay in education and work her way into a position at the policy-making level to affect positive change in education.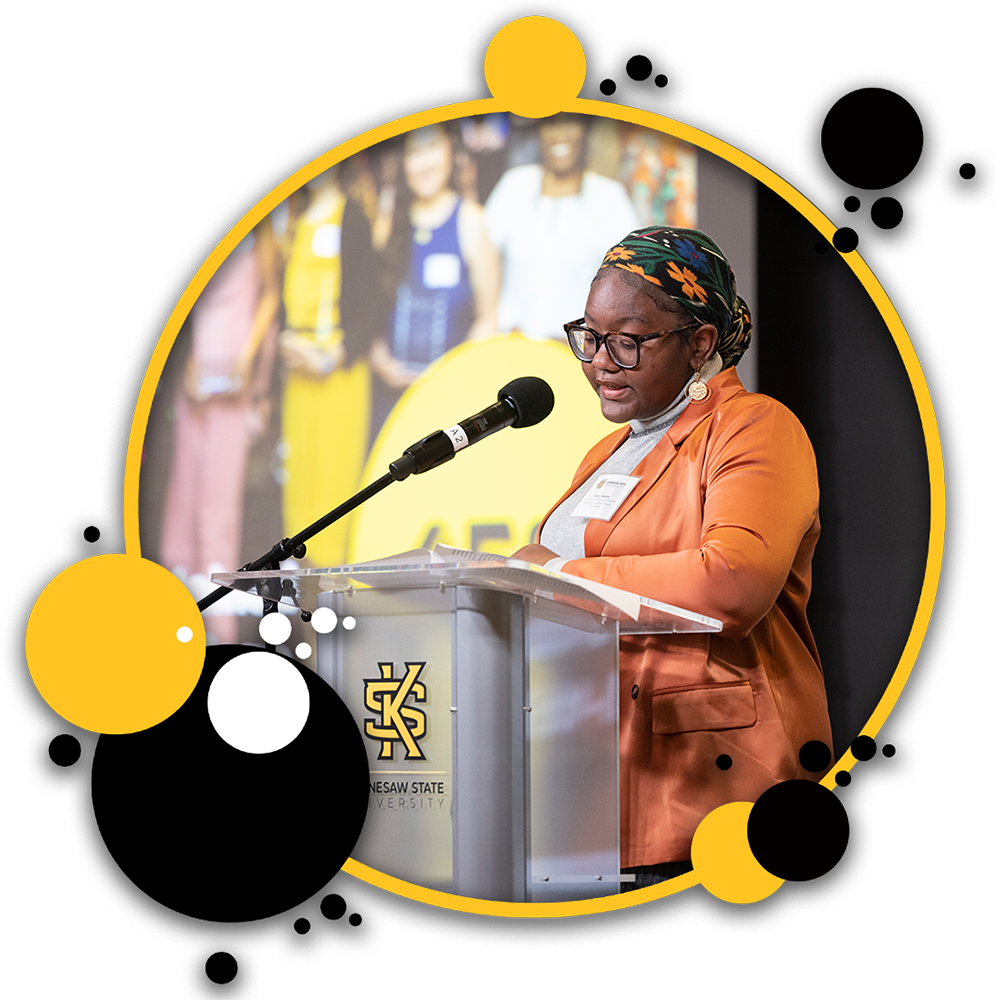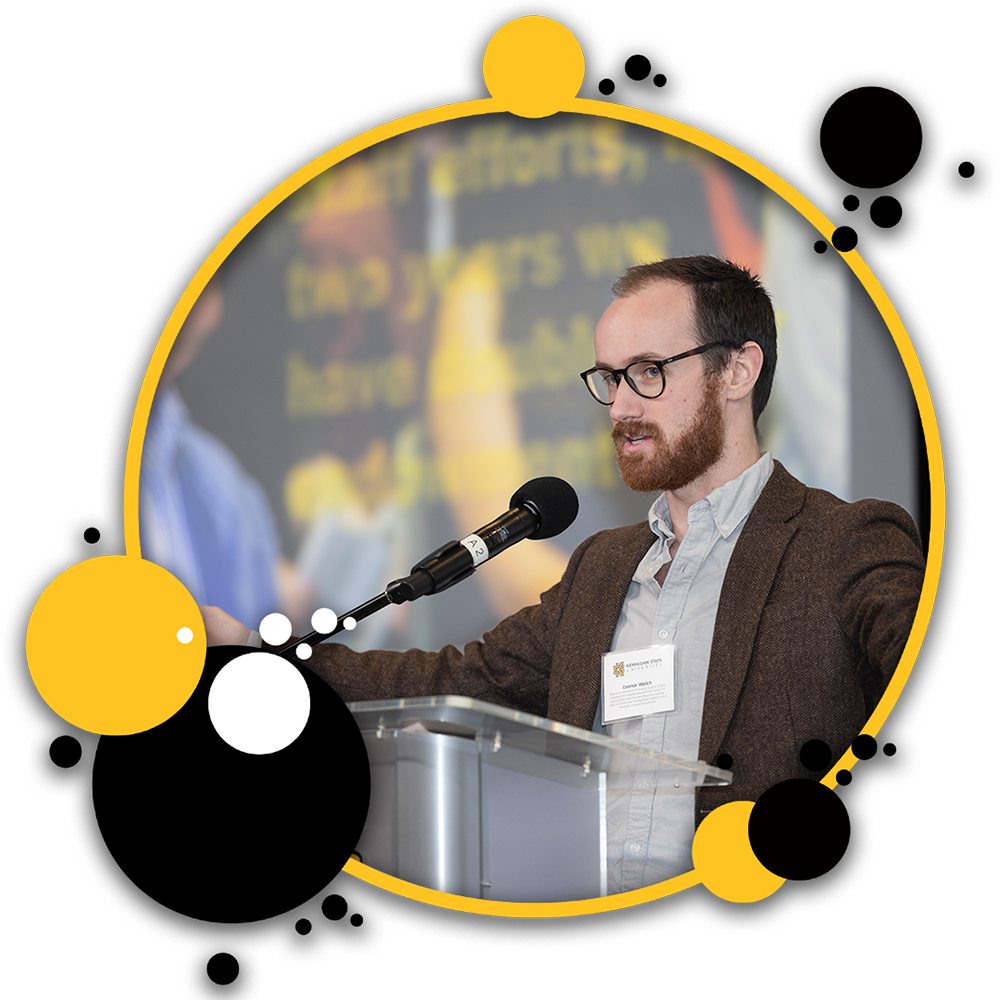 Connor Welch, Senior, Psychology & Chemistry major

Four scholarship awards are paving the way to a degree for Connor Welch. A double major in psychology and chemistry, Welch is working toward medical school and then a career in psychiatry. His scholarship awards are very personal and impactful. Welch has received the Scott E. Duffy Endowed Scholarship, the Center of Young Adult Addiction and Recovery Scholarship Board Scholarship, the Center for Young Adult Addiction and Recovery Annual General Scholarship, and a study abroad scholarship.
Welch has been in long-term recovery from substance use and alcohol disorder and has been sober and in recovery now for more than three years. After being on this path for three years, his decision to choose to pursue his degrees at KSU was driven in part by KSU's very strong Collegiate Recovery Community (CRC). In fact, KSU's program is the largest in the Southeast. Welch applied on a "whim" because it was his first year of sobriety and he "wanted to feel supported and have a community." He found exactly that at KSU and has become very actively engaged in the community. He will be heading to Italy to study abroad and then will continue his mission to complete his double major degree.
Jose Lugo, Junior, Political Science major
Jose Lugo credits a supportive partner, encouraging parents, and generous scholarships with keeping him focused and committed to earning his degree in political science. At 35, Lugo is at KSU's Norman J. Radow College of Humanities and Social Sciences to finish a degree he started many years ago. Although he continues to budget very carefully to pay for his education, being the first-ever recipient of the Dr. Simon Sukumar Memorial Scholarship, which is specifically for students in the Norman J. Radow College of Humanities and Social Sciences who are majoring in Political Science, has been a big relief. He says money, like for most people, is an issue. Receiving the scholarship means he can relax knowing he "can apply the scholarship to next semester."
The Sukumar scholarship stood out because he felt Dr. Sukumar was someone he could relate to and emulate. Lugo's commitment to earning his degree is unshakable. He recalls years ago being told, "getting a college degree isn't a measurement of how smart you are, what it shows is dedication and commitment to something. It reassures me that if I commit to something I can compete. I know it will make my family proud. I would be proud. Ideally, I'd like to go to graduate school, so if I could do the Double Owl, here at KSU that would be great." Lugo's hope is to work and serve in communities like the Columbia Heights community in Washington, D.C. where he grew up.