Ghana: Gateway to Africa Program Receives IDEAS Grant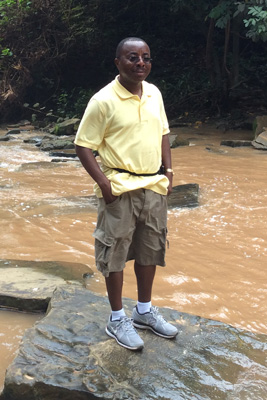 KENNESAW, Ga. (Aug 11, 2020) — Ghana: The Gateway to Africa, a longstanding study abroad program at Kennesaw State University, is a proud recipient of the IDEAS (Increase and Diversify Education Abroad for U.S. Students) Grant for 2021 from the Capacity Building Program for U.S. Study Abroad of the U.S. State Department.
As one of 24 institutional recipients nationwide, the "Ghana: Gateway to Africa" program aims to actively target and encourage the participation of first-generation students, students with disability, and minority students in study abroad. The IDEAS Grant will facilitate these efforts by helping with program promotion and importantly by reducing overall program costs for students for whom cost has been a major barrier. There were a total of 115 applicants for the IDEAS Grant.
"Dr. Akinyemi and I have always been intentional in making study abroad accessible to more students," said Dr. Samuel Abaidoo, Professor of Sociology and Co-Principal Investigator of the grant. "We are very excited about the IDEAS Grant which gives a great opportunity to target and facilitate an increased participation of underrepresented students."
The proposal process was assisted by Dr. Murali Venugopalan, Director of International Grants with KSU's Division of Global Affairs.
As a part of recruitment activities targeting underrepresented students, the Capacity Building Program for U.S. Study Abroad notes that Kennesaw State University will collaborate with the University System of Georgia Africa Council, Savannah State University and Albany State University. In the Spring of 2021, students will participate in a three-week program in Ghana focusing on the country's culture, economy and relationship with the United States.
"We are committed to continuing our support for U.S. colleges and universities as they build their study abroad capacity now, in anticipation of a strong return to U.S. student mobility in the future… When American students study abroad, they support critical U.S. foreign policy goals by building relationships with foreign peers, sharing American culture and values, and developing valuable career skills," said Marie Royce, Assistant Secretary of State for the Bureau of Educational and Cultural Affairs.
In addition to the IDEAS Grant competition, the program also offers opportunities for faculty, staff, and administrators at U.S. colleges and universities to participate in a series of free virtual and in-person study abroad capacity building activities.
For more information on this year's IDEAS Grant recipients, visit http://www.studyabroadcapacitybuilding.org/ideas-grants/.