Center for Sustainable Journalism Using Grants to Expand, Grow Programming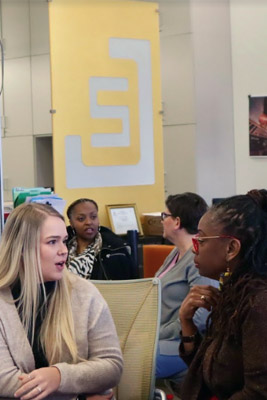 KENNESAW, Ga. (Feb 10, 2021) — The Center for Sustainable Journalism at Kennesaw State University has recently been awarded grants from the Wallace Foundation, Kendeda Fund and the Election SOS Rapid Response Fund which will go towards ongoing projects and initiatives within the program.
The Wallace Foundation, who funds the KSU Youth Today publication, has been a supporter of the center since January 2014. Wallace has recently renewed a commitment for $100,000 annually for two years. This funding will help the CSJ continue coverage on matters related to child welfare, homeless youth, and other critical social issues. Additionally, The Wallace Foundation has granted $50,000 of emergency funding to assist with any issues that continue to arise during the COVID-19 pandemic.
The Center for Sustainable Journalism has also been awarded a grant from the Kendeda Fund, who has been a supporter since 2019. Kendeda has renewed their $75,000 per year grant for another two years. The Kendeda Fund aims to spread awareness on gun violence in the southeast and the CSJ has been able use their publication, Juvenile Justine Information Exchange (JJIE), to do just that. Kendeda has also provided an additional $25,000 per year to support a new program— Fresh Take Georgia. It will focus on covering local news from a fresh perspective as students aim to fill the gaps between legacy news organizations and the local audience. The new funding will assist in hiring industry consultants, accessing publishing technology, and much more.
"This program will provide experiential learning opportunities for our KSU students to get bylines and valuable professional experience working alongside faculty, staff and industry experts so that they are more competitive and eligible for internships and jobs upon graduation," said Gary Green, executive director of the Center for Sustainable Journalism.
Finally, the CSJ has received $10,000 awarded by the Institute for Non-Profit News through the Election SOS Rapid Response Fund. This was organized by funders to support programs that may have depleted their resources during the elongated 2020 election season. With this grant, Kennesaw State students were able to cover news stories and access the necessary equipment and resources needed to produce content.
Concerns maintaining the numerous platforms of the Center for Sustainable Journalism have lessened with these grants as Green is certain that the money will help to expand current programs and grow new ones such as Fresh Take Georgia. He noted that the Center will not only help students, but also the industry and the community.
"They will continue to get a steady stream of well-trained, entry level journalists from KSU who can produce news that benefits our readers," said Green. "Our goal is to grow our center and to have the premier journalism program in the state of Georgia."
-- Written by Jhordan John, Norman J. Radow College of Humanities and Social Sciences