Donor Norman J. Radow a key part of KSU's past and future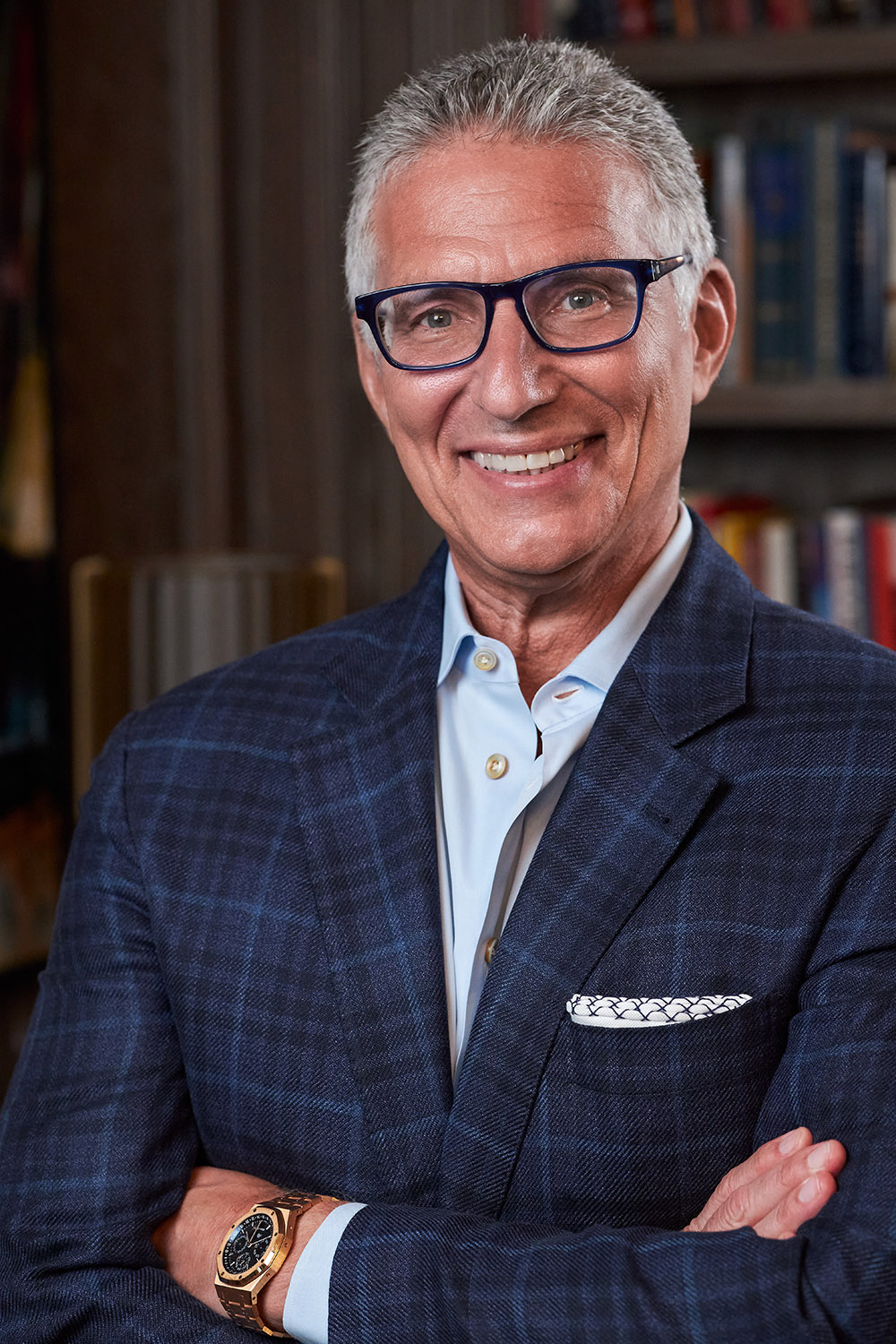 KENNESAW, Ga. (Jun 1, 2021) — In the nearly 22 years since Norman J. Radow first established himself as a supporter of Kennesaw State, the University has seen an unparalleled amount of growth. And at nearly every major step along the way, Radow has been among those who have been instrumental in helping to make it happen.
Whether it was helping to develop the first large residential community at KSU, the creation of the Sports and Recreation Park, or overseeing any of dozens of building and expansion projects, Radow, the real estate executive and past chairman of the Board of Trustees, has been an instrumental figure in transforming Kennesaw State into what it is today.
"Over the years, whatever has been needed is what we focused on to help the University achieve its goals," said Radow, reflecting on the many projects he has helped develop.
During the past year, Radow, wife Lindy, and his family, laid a major foundation for KSU's future as well, with a gift of $9 million to benefit what is now named the Norman J. Radow College of Humanities and Social Sciences. The gift, one of the largest contributions from a single donor in Kennesaw State's history, includes $2 million to establish the Lindy Radow Humanities and Social Sciences Honors Scholarship Endowment Fund.
"The generosity of Norman J. Radow for the University is already well-established, and this gift will have a tremendous impact for years to come," said fomer KSU President Pamela Whitten. "His dedication to providing life-changing opportunities to students has made Kennesaw State what it is today, and we are thankful for everything he has done and continues to do for the University."
FIRST STEPS
Radow, the founder and chief executive officer of real estate firm The Radco Companies, began many years of service to Kennesaw State and the KSU Foundation Board of Trustees with a single project – the development of new on-campus housing for the Kennesaw campus in 2002.
"I was amazed at how little money KSU had," remembered Radow of the early efforts to add housing to what was then primarily a commuter school. "This has got to change. This college can become something."
The three-year development of new housing – now known as the Austin Residential Community – would be one of the first public/private real estate partnerships in Georgia, thanks to the work of Radow and fellow Trustees Michael Coles and Tommy Holder.
"When we cut the ribbon (for the new residential community), nobody really understood what we just did," Radow said. "I said at the time, 'We just created a 24/7 live-work-play community. Kennesaw State will never be the same. It is going to radically change the experience the students have.'"
Over the next decade, Radow's prediction began to come true, as he was a major player during KSU's metamorphosis from a commuter college to world-class university.
During that time as a member of the Board of Trustees serving on the Building Committee and the Real Estate Committee, which he helped form, and later as Chairman of the Board, Radow oversaw an unprecedented period of growth for the University. That period included numerous new building projects and real estate gains, including the acquisition of Chastain Pointe office complex; the construction of University Village residence community; the acquisition of Town Point office building; the development of Village Suites residence hall; construction of all four parking decks; building the Commons dining facility; and the expansion of the Austin Residential Community. In addition, Radow was instrumental in the expansion of athletics programs and facilities during this time, including the development of the football program, the acquisition and construction of the Sports and Recreation Park, and the construction of the soccer and football stadium, Fifth Third Bank Stadium. In his final year as Chairman, Radow inked the deal to lease and develop the Kennesaw State campus in Montepulciano, Italy.
CONTINUING SUPPORT
By the time Radow's term as Chairman of the Board of Trustees ended in 2012, KSU had an on-campus residential capacity for more than 3,000 students, award-winning dining facilities, state-of-the-art club sports facilities, a sports and recreation park that surpasses those of much larger schools, and the Italian campus.
"When I retired (as Chairman), I almost went kicking and screaming," Radow joked. "I never lost my love for KSU. I was always there when KSU needed me."
He continued as an active Trustee and supported the University as a donor for multiple named scholarships, including the Paul Radow Scholarship, established in honor of his late father with $1.2 million to benefit students in mechanical engineering.
"I kept meeting the students every year," Radow said of the engineering scholarship winners. "They had such passion and excitement. I wish I could do more, so that every student could receive the scholarships they need in order to fulfill their dreams."
He also contributed to efforts to help students affected by homelessness, including providing housing for individuals in need.
HUMANITIES AND SOCIAL SCIENCES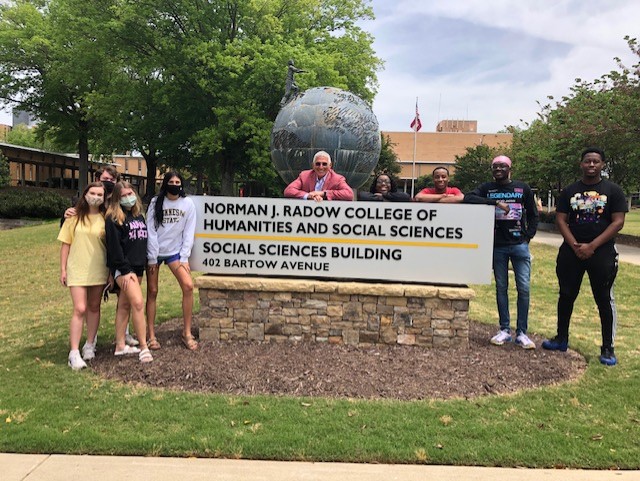 When it came to his most recent contribution to the University, Radow said he was prepared to look beyond individual projects to ways to help a broader set of students, and our society.
"How do we help in a more macro way?" Radow asked. It was that question and discussions he and his wife had with President Pamela Whitten and the late Dean Shawn Long that led to the focus on the College of Humanities and Social Sciences.
"Humanities had the lowest endowment of all the colleges, but it needed the most help," Radow said. "To add $9 million to its endowment was a game changer. Our gift became more important to more students."
The Radow College of Humanities and Social Sciences is Kennesaw State's largest college, offering more than 80 programs of study for 7,000 of the more than 41,000 graduate and undergraduate students enrolled at the University.
The funding of $2 million for the Lindy Radow Scholarship has been matched by funds from a previous multimillion-dollar gift to the University's Honors College from Rosemary and John Brown and additional funds from the KSU Foundation to create a Humanities-Honors Scholarship Endowment of $5 million. At the same time, Radow's contribution to the humanities was a personal one.
"Humanities made me a critical thinker," he said. "It made me be able to take a position and argue and defend that position. It made me a better writer. Because of everything I learned, it made me better at life. You can learn business any time, but a core curriculum is vitally important to make a good citizen."
RADOW INSTITUTE OF SOCIAL EQUITY
As he was identifying ways to help the University, Radow wanted to do something special. Whitten suggested the development of the Radow Institute for Social Equity (RISE), which aligned with his passion for helping others. They saw how the new Institute could bring new possibilities.
The Institute will seek to address the challenges of social justice, equity and economic inequality while developing sustainable solutions that help address pressing social challenges and produce real change.
At the same time, his career as a real estate executive has given him motivation for the creation of RISE.
"In my business, I saw the strain of a system on working-class people," Radow said. "They were sort of put off on their own. Their incomes didn't go up much, but their expenses did. Seeing this up close put the exclamation on the period on this important issue. Something had to be done about disparity of wealth and racial inequality in this country, I decided."
RISE will conduct scholarship to expand opportunities for equity across diverse populations; foster community engagement and dialogue around issues of social justice, equity and race; develop tomorrow's leaders to combat social and economic inequities; and become an international destination for a broad spectrum of active scholars and educators to work together and develop strategies to advance social justice and equity.
"It will take real issues of economic/social/racial/political inequity that can actually make a positive change in our country," Radow said of the Institute. "That's incredibly exciting – applied research and not theoretical research."
Radow's expertise and experience have shaped how he has helped Kennesaw State develop and grow into the University it is today. With the addition of the endowment in the Radow College of Humanities and Social Sciences, that influence will continue well into the future.
"The exciting parts are still to come," Radow said. "KSU is always getting better. You can feel the excitement on both campuses. What happens when they graduate? A lot!
"I think KSU is the proverbial snowball going down the hill. It's just a third of the way down that hill, and I can't wait to see how it accelerates and grows and the impact it makes in the future."