Professors Use Virtual Reality In Research on Self-Driving Vehicles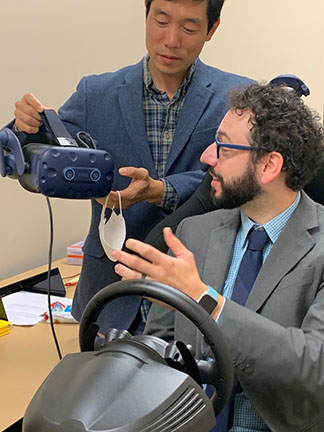 KENNESAW, Ga. (Nov 18, 2021) — As technology continues to evolve, self-driving cars have become one of the newest trends. But what happens when drivers begin to put too much trust in this new technology?
RCHSS professors Dr. Kyung Hun Jung, associate professor of psychology and Dr. Jack Labriola, assistant professor of technical communication, found a way to incorporate Virtual Reality (VR) into a research project on self-driving vehicles.
A personal experience sparked the interest to do more research on VR and self-driving cars, Jung said. "I had a chance to do a test drive of one of the recent Tesla models, and there was an unexpected disengagement of the self-driving mode while I was in the car." While Jung knew what to do at that moment, he thought about others who may have misconceptions of the capabilities of the technology.
"When the self-driving car is approaching a stationary object, for example, there is a beeping sound. The driver is then supposed to take the control of the car and do something to avoid the obstacle. But sometimes those who overtrust the self-driving technology interpret the warning signal as a sign telling them 'I noticed this and I'm going to handle the situation.'"
Jung wanted to find a way to give the users a better understanding of the capabilities and limitations of self-driving driving technology without putting them on actual roads. This is where VR comes in. Jung got Labriola on board, and they were able to use their different backgrounds to offer an interdisciplinary approach to their research.
"Dr. Jung is thinking about it very much from a psychological aspect and then the mental workload and response time and everything like that. I'm sort of coming at it with a user experience perspective on how the user sort of reacts and what is the best way to guide or explain situations to your users so that they do have a pleasant experience," Labriola said.
Their research began during the COVID-19 pandemic and, like many research projects, the pandemic added a layer of difficulty to the research process. However, Both Labriola and Jung were grateful for the work the Office of Research had done to assist them with creating a workspace that was safe and efficient.
"The research took place in two labs. One had the complete driver's simulator set up and the other was the observation space with the correspondent computer and technology. Separate rooms allowed the researchers to observe what was taking place without being in the same room with the participants," Labriola said.
Labriola and Jung also worked alongside students in the First-Years Scholar program. "They did such an incredible job and truly this research project would not have been possible without them. We had such a solid group of undergraduates who really took the deep dive into the realm of self-driving vehicles with us," said Labriola. Dr. Jung also encouraged other faculty members to work with undergrad students. "I hope this encourages other faculty who may be skeptical about the effectiveness of doing research with undergraduate students. I believe they could be a really great workforce in your research."
--By Jhordan John, RCHSS Communication and Marketing Student Assistant