Dr. Eric Oakley Recognized with Distinguished Honors Faculty Award
KENNESAW, Ga. (Apr 29, 2022) —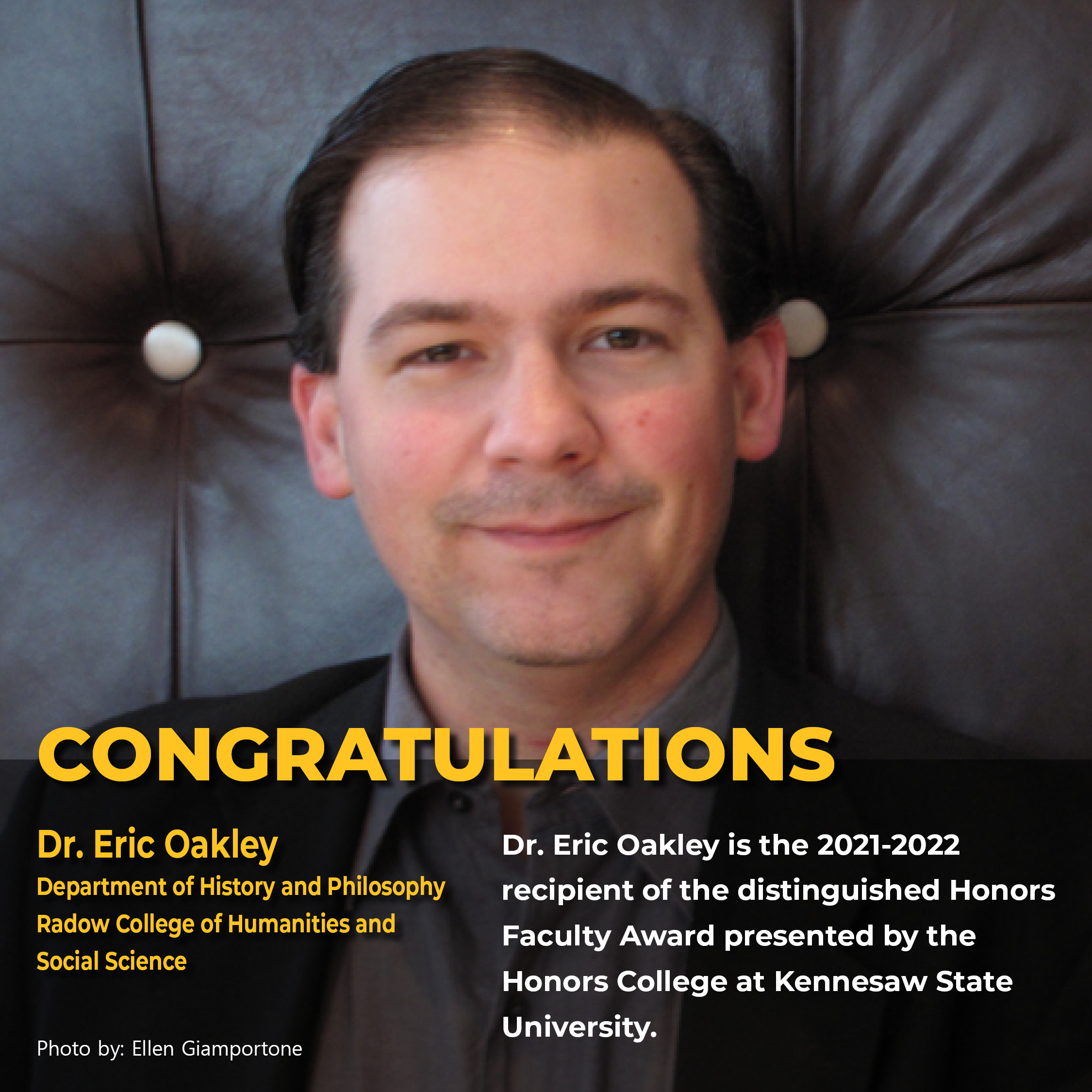 Kennesaw State University's Journey Honors College has awarded Dr. Eric Oakley the Distinguished Honors Faculty Award for the academic year 2021-2022. His selection was based on nominations submitted by students in the Honors College making it a particularly gratifying honor.
Oakley, who teaches both U.S. and World History and serves as a part-time coordinator in the Department of History and Philosophy joined the department in 2018. For the past four years he has consistently delivered the highest caliber instruction to KSU's undergraduates. "Eric is an outstanding teacher and mentor to students at the Radow College of Humanities and Social Science as well as the KSU Journey Honors College. We are proud of his accomplishments and excited to be able to celebrate this recognition," said Dr. Bryan McGovern, Interim Chair, Department of History and Philosophy.
This is the 7th year the award has been given, and the second consecutive year the Department of History and Philosophy has had a faculty member recognized. The department's award-winning educators promote valuable skills such as analytical and critical thinking, research, articulate and powerful writing, collaboration, intellectual curiosity, and empathy to prepare students for success inside and outside of the classroom. Whether teaching within the department or for the Journey Honors College, Oakley connects with his students and prepares them well for continued rigorous academics or for careers in a range of professions including business, law, government, international business, education, research among others.
Oakley's impact on the students is reflected in the comments they shared in the nominating process. "Dr. Oakley has inspired my passion for learning. He is reliable, motivational, and always there to listen. I truly feel he embodies what it means to be part of the honors program. Dr. Oakley's passion for his field inspires all of his students, and he has left a lasting impact on my education and career pursuit," said KSU student Tori Schwimmer.
"Teaching in the Honors College has been a magical opportunity to serve some of the university's most talented students. I'm honored and delighted to be recognized as this year's awardee," said Oakley.
The Journey Honors College invites eligible KSU students to apply to take advantage of "opportunities to participate in intellectual challenges; enhanced academic experiences; and community engagement, leadership and global activities to support their development as individuals and contributing members of their various communities." Oakley will be presented with his award during the Honors College Graduation Celebration Tuesday, May 3rd.