Kennesaw State University Associate English Professor Regina Bradley, Ph.D., Wins Georgia Writers Association's Author of the Year Award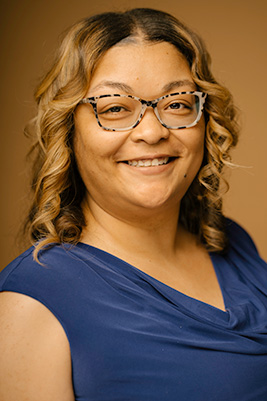 KENNESAW, Ga. (Jun 28, 2022) — Regina Bradley, Ph.D., won the Georgia Author of the Year award in the essay category for her work titled, Chronicling Stankonia: The Rise of the Hip-Hop South. The Georgia Writers Association's (GWA) Georgia Author of the Year Awards (GAYA) is the longest-running literary award in the Southeastern United States said KSU's associate chair of the Department of English, Dr. Ralph Wilson. "The Department of English is very proud and happy to hear of Dr. Regina N. Bradley's latest accomplishment as a winner of the 58th Georgia Author of the Year Awards in the Essay Category," said Wilson. "She is an extremely talented writer, and the recognition is well deserved."
John Havard, chair of the English Department said, "Dr. Bradley is among the most notable scholars in the new southern studies, doing work that deftly defies boundaries between literary and popular culture." First presented in 1964, the awards celebrate "the best literature by Georgia writers." The Georgia Writers Association has managed the GAYA event since 1994. Held virtually in 2022, the event honored winners and finalists from 113 nominees in 14 categories. The awards presentation is available on YouTube and the GWA website in its entirety. "As an author with deep insight into Georgia culture, she is an ideal recipient for a Georgia Author of the Year Award. Dr. Bradley and her work represent some of the best the English Department has to offer: creativity, solid scholarship, and social and community engagement," Dr. Havard added.
Literary judge Megan Volpert said of Bradley's essay, "Bradley is a defining voice of the new south—an engrossing one that blends academic analytical chops with the personal narrative of lived experience as a Black woman who grew up after the civil rights movement. Her argument, that hip-hop culture since the Eighties represents concerns and methodologies of the next wave of contemporary southern Black identities, is clear and persuasive and without alternatives." She went on to say, "Chronicling Stankonia begins with a close philosophical reading of Outkast and ends with an exhortation to invigorate cultural studies through attention to the popular arts and letters made by Black southerners."
Regina N. Bradley is Associate Professor of English and African Diaspora Studies at Kennesaw State University in Kennesaw, GA. Her research interests include southern hip hop, the contemporary Black American South, race and sound studies, and southern studies. Bradley's award-winning essay is based on her book of the same title published by the UNC Press. Dr. Bradley recently completed a semester as a Harvard Research Fellow in Spring 2022 and will be teaching at KSU in the fall.