Congratulations to our SCMPD students, faculty, and alumni that won Radow College of Humanities and Social Sciences awards
KENNESAW, Ga. (Apr 24, 2023) —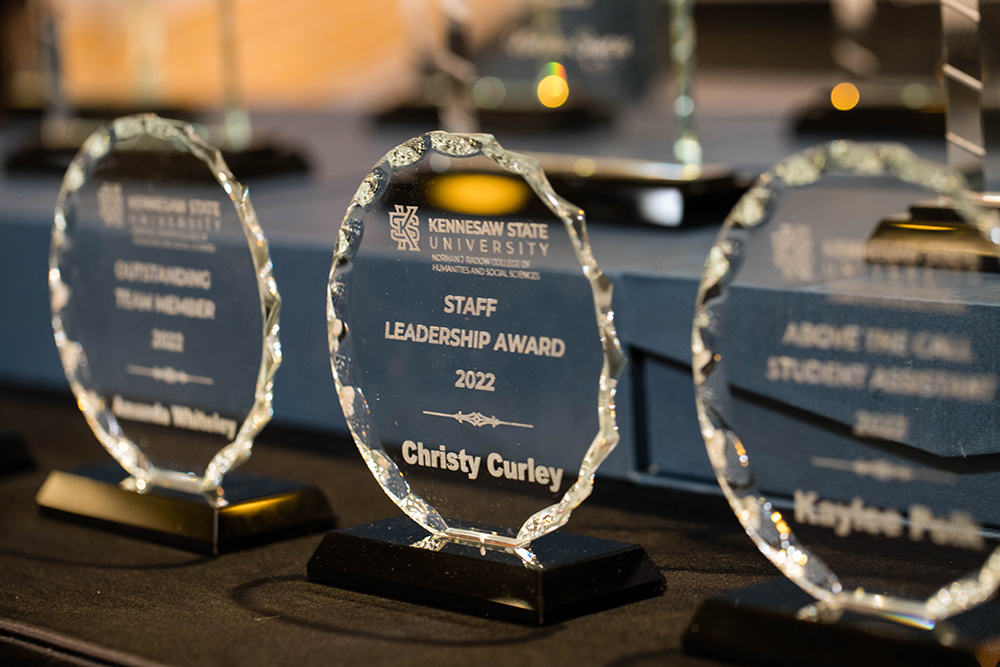 The Norman J. Radow College of Humanities and Social Sciences celebrated the outstanding achievements of its faculty, staff, and students on April 14th during the All College Awards Ceremony. The event is an opportunity to recognize the dedication, hard work, and top-quality performance of faculty and staff, as well as the academic excellence displayed by RCHSS students during the 2022-2023 academic year. Dean Katie Kaukinen presided over the event, which included a keynote address from Norman J. Radow for whom the college is named.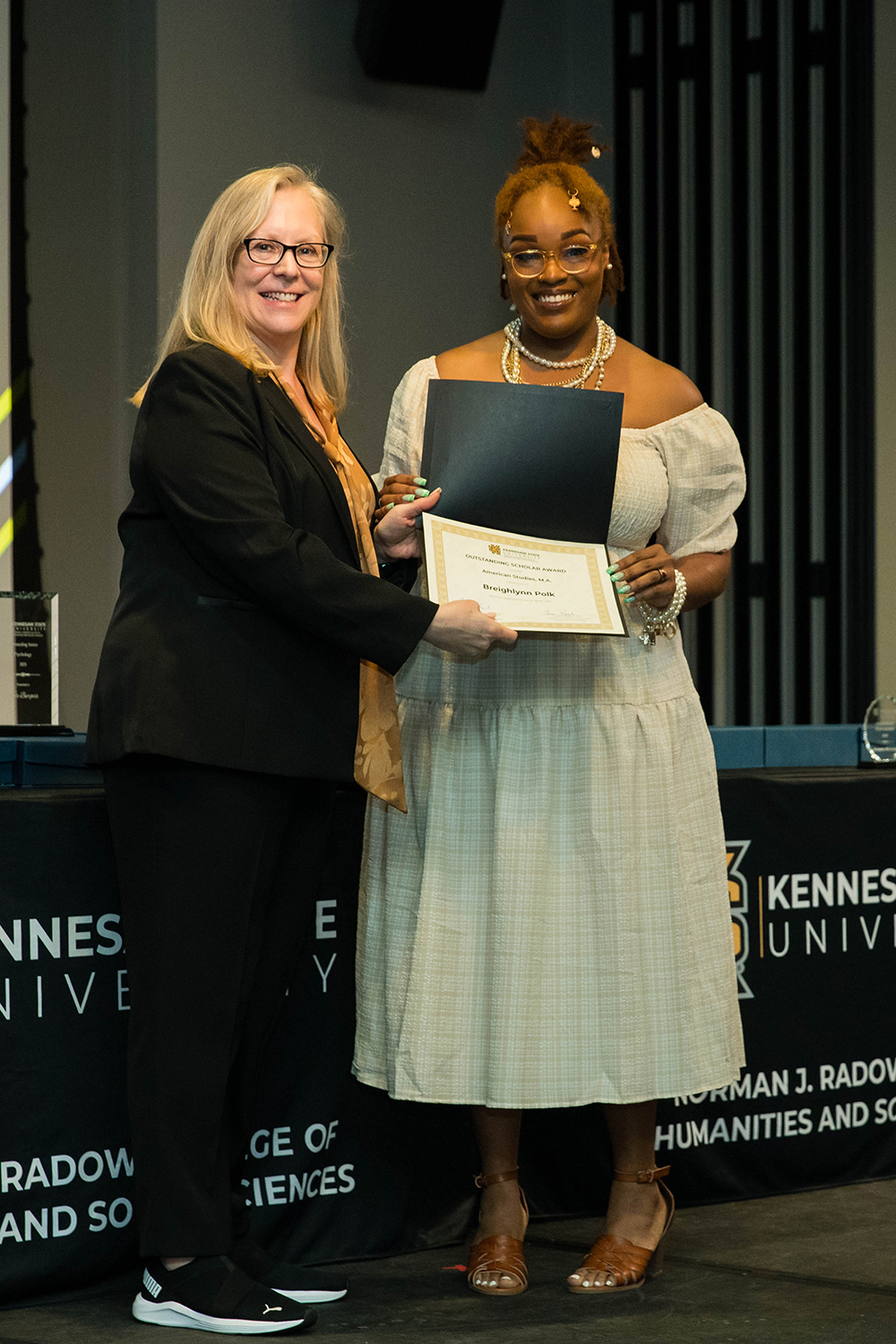 "I am consistently impressed by how engaged our students are in their academic pursuits and how well they have incorporated hands-on learning experiences, research, and service-learning opportunities into their education. They are inspirational and it is an honor to recognize some of them at this event," said Dean Kaukinen. "We are also grateful to our faculty and staff who together are the engine behind our college's success and our ability to provide a world-class educational experience to our students," she added.
Because the event is a special occasion for the honorees and their guests, RCHSS is sharing the list of award recipients in each category to the greater RCHSS community. The award categories include Outstanding Scholar, Outstanding Seniors, Faculty Awards, and Staff Awards. All of the honorees are listed below.
---
This year there were eight Outstanding Scholar awards, including:
Matthew Mannheimer, MS, Integrated Global Communication, School of Communication & Media
Catherine Dietsch, Ph.D. Philosophy, International Conflict Management, School of Conflict Management, Peacebuilding & Development
Travis Highfield, MPA, Master of Public Administration, School of Government & International Affairs
Cody Jackson, MS, Conflict Management, School of Conflict Management, Peacebuilding & Development
Adam Swart, MS, International Policy Management, School of Government & International Affairs
Crystal Wilkins, MA, Professional Writing, Department of English
Breighlynn Polk, MA, American Studies, Interdisciplinary Studies Department
Breighlynn Polk, MA, American Studies, Interdisciplinary Studies Department
Kelly Neal, MS, Criminal Justice, Department of Sociology & Criminal Justice
Outstanding Senior award recipients included:
Taylor Croft, Journalism & Emerging Media, School of Communication & Media
Faculty Honorees: Prof. Gary Green & Dr. Josh Azriel
Lisa Johnson, Organizational & Professional Communication, School of Communication & Media, Faculty Honorees: Dr. Audrey Allison & Dr. Robin Mathis
Amari Mosby, Media and Entertainment, School of Communication & Media
Faculty Honorees: Dr. Mackenzie Cato
Lauren Nye, Public Relations, School of Communication & Media
Faculty Honorees: Dr. Amanda Weed & Ms. Julie Wyatt
Ariana Dawes, Political Science, School of Government & International Affairs
Faculty Honorees: Dr. John Givens & Dr. April Johnson
Katie Kojali, International Affairs, School of Government & International Affairs
Faculty Honorees: Dr. Eric Castater & Dr. Thomas Rotnem
Lilly Colantuono, Geography, Department of Geography & Anthropology
Faculty Honorees: Dr. Vanessa Singer-Friedman & Ms. Christine Jacobs
Derek Schmidt, Geospatial Science, Department of Geography & Anthropology
Faculty Honorees: Dr. Mark Patterson & Dr. Nancy Pullen
Chandler Wooten, Anthropology, Department of Geography & Anthropology
Faculty Honorees: Dr. Terry Powis & Dr. Susan Smith
Katie Kojali, History, Department of History & Philosophy
Faculty Honorees: Dr. Paul Dover & Dr. Brian Swain
Natalie Santos, Philosophy, Department of History & Philosophy
Faculty Honorees: Dr. Karolin Mrzakhan & Dr. Chris Palmer
Sergio Trejo, History Education, Department of History & Philosophy
Faculty Honorees: Dr. Tom Okie & Dr. Charles Wynn
Stacy Adams, English Education, Department of English
Faculty Honorees: Dr. Beth Krone & Dr. Michelle Devereaux
Haley Hunt, English, Department of English
Faculty Honorees: Dr. Anna Weinstein & Dr. Christopher Palmer
Kaitlin Etters, Asian Studies, Interdisciplinary Studies Department
Faculty Honorees: Dr. May Gao & Ms. Akiko Davis
DeErik Reed, African & African Diaspora Studies, Interdisciplinary Studies Department
Faculty Honorees: Dr. Seneca Vaught & Dr. Griselda Thomas
Jenny Rissen, Interdisciplinary Studies, Interdisciplinary Studies Department
Faculty Honorees: Dr. Laura McGrath & Dr. Katharine Schaab
Kate Burgess, Psychology, Department of Psychological Science
Faculty Honorees: Dr. Gail Scott & Dr. Chris Ziegler
Chasidy Harris, Sociology, Department of Sociology & Criminal Justice
Faculty Honorees: Dr. Joel Crombez & Dr. Daniel Farr
Thomas Kennedy, Criminal Justice, Department of Sociology & Criminal Justice
Faculty Honorees: Mr. Rodney Hendrix & Dr. Jennifer Combs
Marissa Bailey, Technical Communication, Department of Technical Communication & Interactive Design
Andrea Romero Diaz, Interactive Design, Department of Technical Communication & Interactive Design
Savannah Tuschl, Modern Language & Culture, Department of World Languages & Cultures
Faculty Honorees: Dr. Robert Simon & Dr. Neysa Figueroa
Staff members who were recognized for their accomplishments and service included:
Laura Vo, Excellence in Customer Service Award, School of Communication & Media
Adam Tarrant, Innovation & Creativity Award, Department of Geography & Anthropology
Rhonda Nemeth, Outstanding Staff Achievement Award, Department of English
Amanda Whiteley, Outstanding Team Member Award, RCHSS Dean's Office
Christy Curley, Staff Leadership Award, RCHSS Undergraduate Advising Center
Kaylee Polk, Above the Call Award - Student Assistant, Major: Psychology
Connor McMahan, Innovation & Creativity Award - Student Assistant, Major: Criminal Justice
RCHSS's Award-winning faculty included:
Dr. May Gao, Distinguished Professor Award, Interdisciplinary Studies Department
Dr. Paul Dover, Distinguished Professor Award, Department of History & Philosophy
Dr. Christopher Pallas, Outstanding Research & Creative Activity Award, School of Conflict Management, Peacebuilding & Development
Dr. Karolin Mirzakhan, Outstanding Teaching Award, Department of History & Philosophy
Dr. Rebecca LeFebvre, Outstanding Online Teaching Award, School of Government & International Affairs
Dr. Brian Moore, Outstanding Early Career Award, Department of Psychological Science
Dr. Kristina Hook, Outstanding Professional Service & Community Engagement Award, School of Conflict Management, Peacebuilding & Development
Dr. Darina Lepadatu, Outstanding Professional Service & Community Engagement Award, Department of Sociology & Criminal Justice
Dr. Susan Kirkpatrick Smith, Distinguished International Achievement Award, Department of Geography & Anthropology
Susanne Estrella, MA, Outstanding Part-Time Teaching Award, Department of World Languages & Cultures