Brandon D. Lundy, Ph. D., Named Chair for Radow College's Department of Geography and Anthropology
KENNESAW, Ga. (May 30, 2023) — Dean Catherine Kaukinen today announced Brandon D. Lundy, Ph.D., as Radow College's chair of the Department of Geography and Anthropology effective July 1st.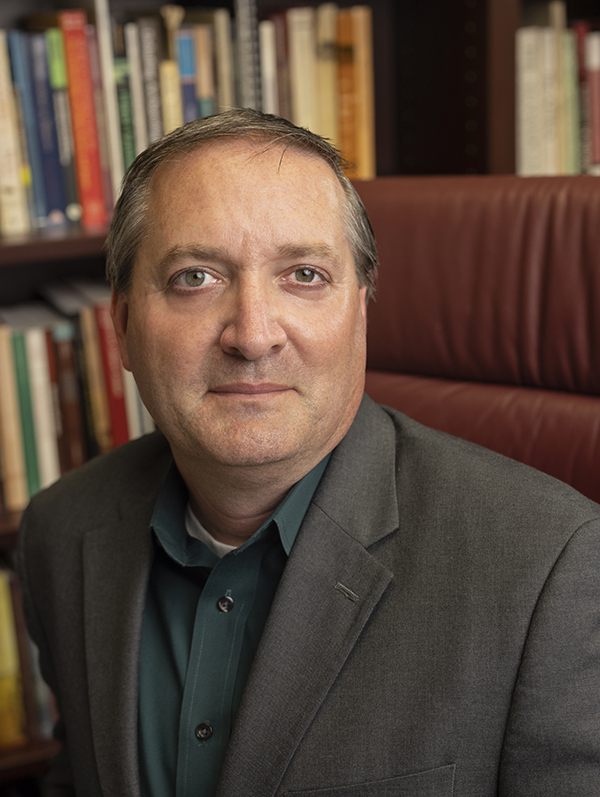 "It has been both rewarding and inspiring to work with Dr. Lundy this past year while he served as the department's interim chair," said Dean Kaukinen. "His enthusiasm for the fields of geography, anthropology, and the geospatial sciences, as well as his commitment to promoting the connections between these fields of study and their practical application in professional careers, is essential to our students' success. I look forward to working with him in his role of department chair to support the continued­ development of curriculum, undergraduate and graduate research studies, and the work he is doing with his own recent NSF grant award," added Kaukinen.
The Department of Geography and Anthropology offers students a range of degree programs in Anthropology, Geography, and Geospatial Sciences, and minors in Anthropology, Environmental Studies, and Geography. In addition, students can pursue certificates in Geographic Information Sciences and Land Surveying. The department's focus on preparing students with an understanding of the human condition, past and present, as it relates to culture, the physical environment, and those myriad interrelationships offers students ample opportunity to engage in hands-on experiences locally and around the globe. Additionally, the department will continue to focus on expanding collaborative research opportunities for faculty and students.
"As you can imagine, I am beyond thrilled to be given the chance to lead such an innovative, interdisciplinary department. As chair, I will continue to support faculty endeavors to promote community engagement, service learning, and interdisciplinary research with relevance opportunities for our students," said Lundy. "The Department of Geography and Anthropology is a leader in undergraduate student research. Department faculty coordinate more than 20 research labs and travel opportunities both at home and abroad. I will continue to advance our department's track record of excellence by supporting intradepartmental research initiatives and high impact practices," he added.
Dr. Lundy has been and will continue to be engaged in some of the Radow College's special initiatives, including the 365 Days of Learning & Service initiative. The initiative for AY 2023-2024 is sustainability, which has relevance to the department's curriculum. "Geography and Anthropology plans to take a leading role in RCHSS's 365 Days of Learning and Service focused on sustainability," said Lundy. "As the home of the Sustainability Film Series, KSU Food Forest, and OwlSwap, I believe we will find many ways to elevate the 365 Days initiative and bring greater attention to the issue of sustainability in its many forms."
Dr. Lundy recently received an NSF Cultural Anthropology Program Senior Research Award in collaboration with two geographers and an alcohol epidemiologist at KSU to study the contested values and livelihood opportunities and challenges of artisanal alcohol. He currently serves as the editor-in-chief of the journal Economic Anthropology and was awarded KSU's 2021-2022 Outstanding Professional Service and Community Engagement Award. Dr. Lundy has edited or co-edited five books and he presents and publishes scholarship regularly with graduate and undergraduate students on Lusophone West Africa (Guinea-Bissau, Cabo Verde) and the Atlantic World; political ecology and globalization; livelihoods and food systems; cultural identity; and Indigenous conflict management.
KSU has been Dr. Lundy's academic home for the past 14 years. Before accepting his role as interim chair of the Department of Geography and Anthropology, he served as a professor at all ranks and as Associate Director of the Ph.D. program in International Conflict Management. He was a founding administrator and associate director for KSU's School of Conflict Management, Peacebuilding and Development. During an eight-year period he graduated 55 new Ph.D.s in International Conflict Management achieving a 70% graduation rate, well above the national average. Receiving his Ph.D.s from SUNY at Buffalo and the University of Science and Technology of Lille, France, Dr. Lundy's work focuses on climate change, sustainable livelihoods, ethnoeconomics, transnational labor migration, indigenous conflict management, and entrepreneurship. He has published in many journals including Cross-Cultural Research, Human Organization, African Studies, Development in Practice, Economic Anthropology, African Arts, African Identities, and Culture, Agriculture, Food and Environment. Dr. Lundy has served as a country specialist (Guinea-Bissau) for Fulbright and the State Department and regularly presents nationally and internationally.