RCHSS Faculty and Staff Appearing Regularly in The Conversation Reaching Larger and Larger Audiences
KENNESAW, Ga. (Jul 17, 2023) —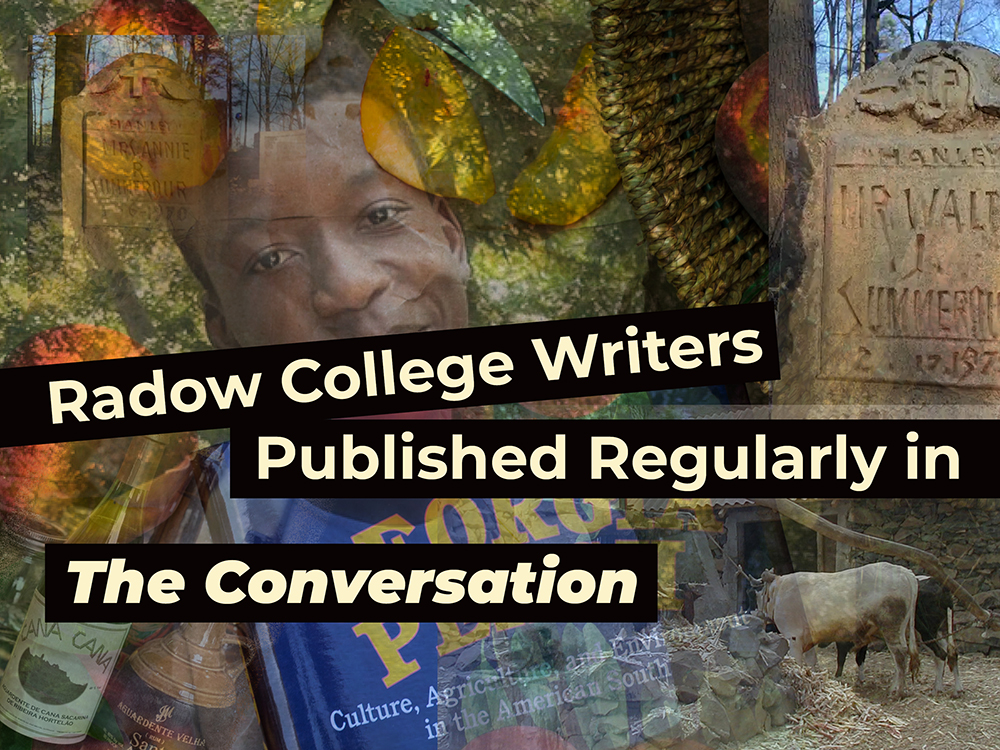 What do headstones in an African-American cemetery in Buckhead, craft spirits distilled in Cabo Verde off the west coast of Africa, the mystique of Georgia's iconic crop – the peach – and a teenager shot in Kansas have in common? They are all topics covered in detail in articles written by Radow College of Humanities and Social Science's faculty and staff for the on-line publication The Conversation. In fact, in the past six weeks, David Parker, Ph.D., Assistant Chair of the Department of History and Philosophy and Professor of History; Brandon Lundy, Ph.D., Chair of the Geography and Anthropology Department, along with Monica Swahn, Ph.D., Dean of Wellstar College of Health & Human Services, Mark Patterson, Ph.D., Professor of Geography and Geospatial Sciences, and Nancy Hoalst-Pullen, Ph.D., Professor of Geography; and Tom Okie, Coordinator of the Undergraduate History Education Program and Professor of History Education and History; and Barbara Combs, Ph.D., J.D. and chair of the Department of Sociology and Criminal Justice have all been published in The Conversation, offering insightful articles on these diverse topics.
The Radow College's faculty and staff have been steadily increasing the college's visibility among a broader audience through work that has appeared in this publication. The Conversation is an independent, online, news organization dedicated to sharing informed commentary and analysis to a wide audience, reaching roughly 20 million readers per month. Their articles are regularly republished in large national outlets such as The Washington Post, Time, Newsweek, CNN, and Scientific American, as well as in local newspapers. For example, David Parker's article about African-American grave markers was republished in more than three dozen newspapers, from the AJC and the Miami Herald to the Kiowa County Press (Colorado) and the San Antonio Express News. KSU established its relationship with The Conversation in September of 2022, and faculty from the Radow College have been featured in the publication with increasing regularity. Barbara Coombs, Ph.D., J.D., had her article, "How the shooting of Ralph Yarl demonstrates the fiction of a colorblind society in America," published in July.
Since beginning a relationship with this news outlet, faculty from RCHSS have been published no fewer than 15 times, with David Parker and Tom Okie being published twice each, including Okie's most recent article that examines the story behind the Georgia peach's status as an iconic crop despite its limited impact on the state's economy. The article "Inside the Grogue Wars of Cabo Verde" which was co-written by Dr. Brandon Lundy, Dr. Mark Patterson, Dr. Monica Swahn, and Dr. Nancy Hoalst-Pullen, was published on June 30th and, within two weeks, has had more than 12,670 engagements with readers.
The Radow College consistently produces high quality, engaging articles, and their placement in news outlets across the country demonstrates the expertise of its faculty and staff and increases the national visibility of the college. However, beyond garnering increased awareness for KSU and the Radow College, sharing valuable, educational information is the goal. Dr. Lundy says, "Public scholarship is an essential part of what we do as academics to ensure that our work gets disseminated to the stakeholders who are most attuned to our advancements."