From Music to Media: A story of self-discovery through the Creative Jam
This school's competition is beneficial in many ways. Participants have the chance to win awards, build their resume, and gain experience. However, finalists share the more personal reasons on why they compete.
Woodstock, GA (Feb 15, 2023) — Youtuber Joselle Buadoo said she found herself on a difficult and scary journey after injuring her hand while pursuing music education in 2019. She was diagnosed with Quervian's Tenosynovitis, which affected the tendon in her thumb. The diagnosis forced her to take a long break from playing and creating music, which meant that she could no longer jam in the philharmonic orchestra.
Buadoo had to find her wings again after abandoning her dream of becoming a music major. Instead, she went on a journey of self-discovery through the Adobe Creative Jam competition. This competition provided Buadoo another outlet to express her creativity and still jam.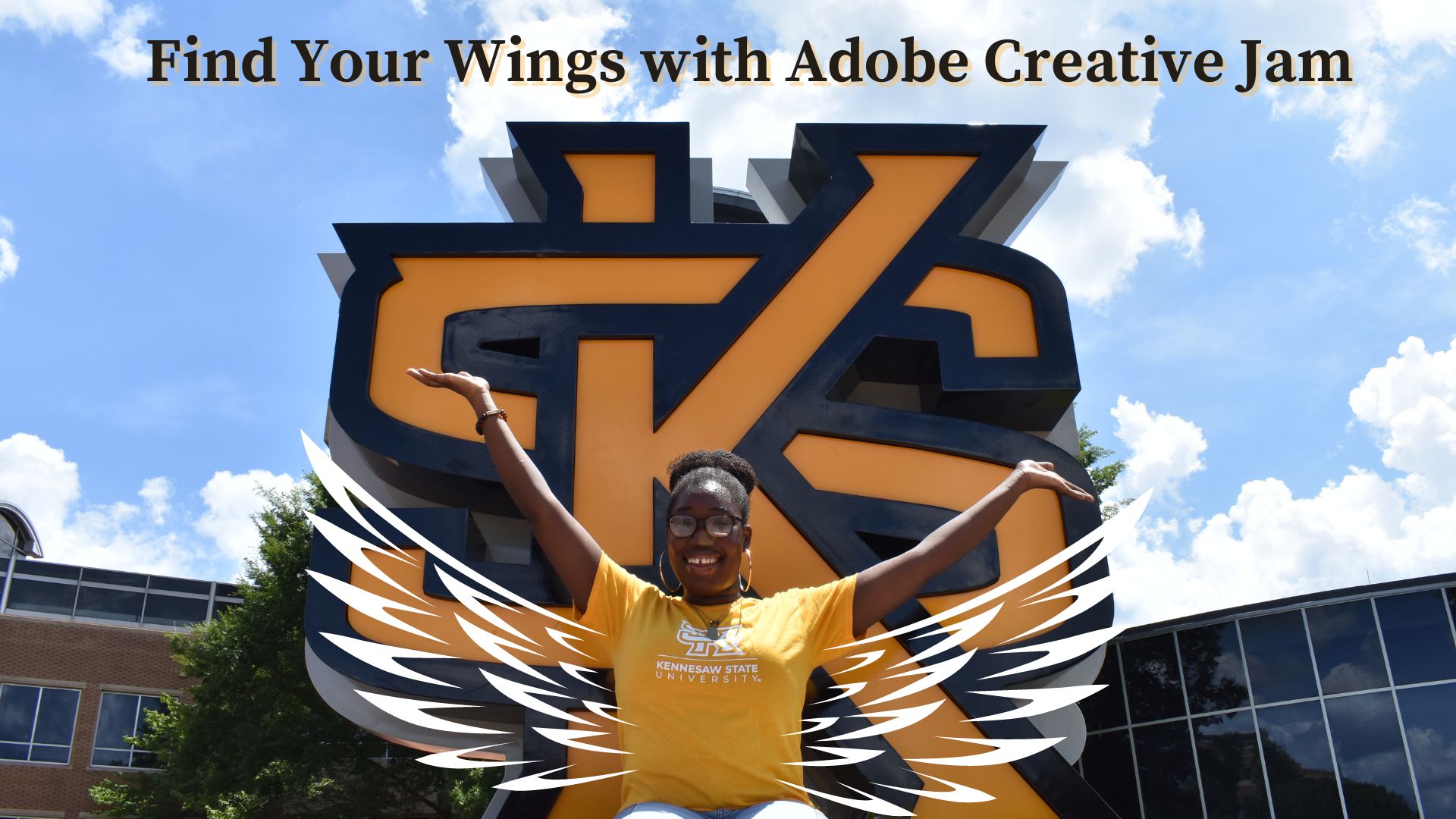 Kennesaw State University has hosted the Adobe Creative Jam since 2021. All students, regardless of their major, can participate in this competition. The competition presents a theme each year, which students are supposed to solve.
Buadoo says she learned about the Creative Jam through an on-campus newsletter that is sent out each week to students in the School of Communication and Media, including her major, Media and Entertainment. The flyer welcomed all students to an event that would include a "fun workshop/party complete with Adobe Premiere Rush software tutorials."
ONE COMPETITION, MANY BENEFITS
Students who participate in the competition can get expert training on the Premiere Rush software, then use this training to create their own content for the competition. According to the competition's website, students can expect to learn skills such as digital literacy, career readiness, teamwork skills and communication skills.
This competition serves as not only a way to learn Adobe software skills, but also a way for students to make connections with fellow students who are competing and put their creativity to work.
"You dig deeper inside of yourself," said Sarah Johnson, a senior lecturer at KSU and organizer of the Creative Jam. "And at the end of that, you create better work because you have such a personal connection to it. It is so empowering for students."
Buadoo decided to compete because she said it would be fun and she wanted to have something to add to her resume before graduating college. This was a new way to jam in lieu of music.
"I haven't done anything at school really," said Buadoo. "Even before the pandemic started, I wasn't really participating in anything. Like, I need stuff for my portfolio, and I knew I would enjoy it."
BRINGING CREATIVE JAM TO KSU
Johnson first discovered Adobe as an intern at WellStar Health System. She used the Mac in the office to teach herself how to use the Adobe software installed on the computer.
"I created a flyer for pulmonary care week and that just really got me interested in the idea that I could not only be a public relations practitioner, but I could also tell a story visually through graphic design," said Johnson.
This marked the beginning of Johnson's journey of exploring her passion for design, and eventually becoming certified in Adobe programs. Johnson said that certification is important as you progress in your career, but students should focus on their digital portfolio to help demonstrate the skills they have learned. The Adobe Creative Jam presents an opportunity for students to do just that.
Johnson brought the Adobe competition to KSU in 2021 to help encourage students to take advantage of their free Adobe license. The competition got students communicating with each other at the in-person events and involved with the university.
THE COMPETITION TAKES OFF
Adobe has hosted Creative Jam competitions at universities across the nation, and they oversaw the first competition at KSU in 2021. However, Johnson said for 2022, the KSU Libraries paired up with the Norman J. Radow College of Humanities and Social Sciences to run the competition.
The kickoff, finale, and other workshops were held in the library. Faculty from the library were also on the committee for the competition. Johnson said that she hopes this collaborative effort will continue in the future.
The committee is made up of faculty across the campus who each have a different perspective to offer. Johnson said that this committee reviews the videos, ranks them, and selects the year's theme based on what is happening in the world or what KSU wants students to explore. The 2022 Creative Jam presented the theme, "Find Your ____, Find Your Wings."
"I've competed in competitions in the past and everything, but I think the whole theme of the competition really stuck with me," said Lilly Carter, whose submission, "Find Your Future, Find Your Wings" was a 2022 finalist. "I immediately had a lot of ideas flowing."
Carter along with two other students, was selected a 2022 Creative Jam finalist. This was a lengthy and difficult process, said Johnson, because there were so many good submissions.
The judging process starts with Johnson, who narrows down the list of submitted videos and sends them to the committee. Each member ranks them based on the guidelines provided on the rubric. The committee continues to narrow down the submissions before finally selecting the winners.
The 2022 competition received a record-breaking 200 submissions, which Johnson said was the largest single-university Creative Jam ever held. While majors within the Radow College dominate the competition, Johnson said that participants from nine of 11 schools on campus made submissions in 2022.
LET THE JUDGING BEGIN
The judges look for a few things from the rubric provided on the Creative Jam website, including how well the participants present the theme and incorporate video and audio elements into their submission. They select three finalists and four honorable mentions. While the finalists win prizes such as an Adobe backpack, a mobile lens kit and more, all participants get a micro-credential badge.
The micro-credential in digital storytelling debuted in the competition in 2022. This badge can be added to a person's resume and profiles such as Linked-in. Johnson said that this skill and award can help people stand out to future employers. Participants and finalists agree that this was a great incentive for participating in the competition.
Noah Smith, a junior MENT major at KSU and a finalist in the 2022 Creative Jam, said that the micro-credential is a big benefit of competing. He said that this is something he can share with future employers to show his skills.
"I've got something to show, an award … a credential, to show not just that I have done it but that I excelled in it. I think that is a big thing," said Smith.
Smith's video submission answered last year's prompt with, "Find Your Passion, Find Your Wings." Smith started his own media production business while attending KSU. Smith said that the video helped him reflect on how he found his "passion" and strived to pursue it through his education.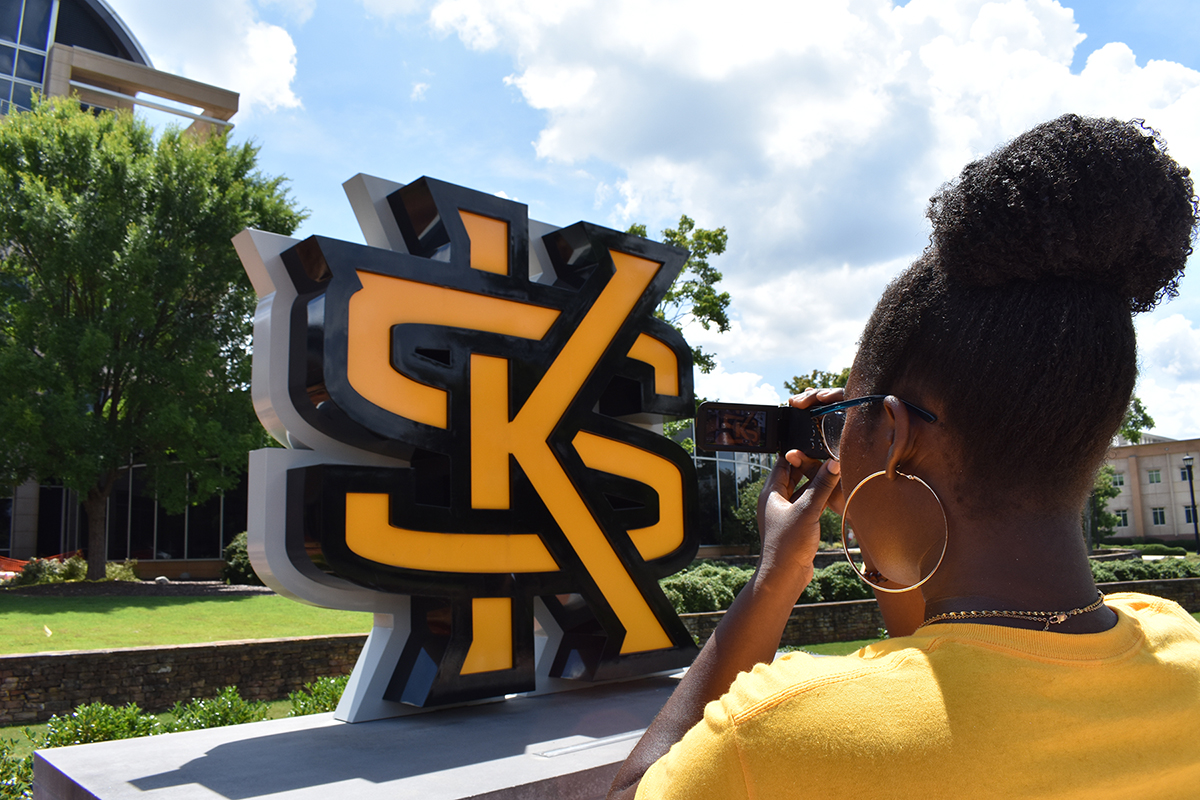 FINDING A NEW JOURNEY
Around 20 people were in the crowd at the 2022 finale, including participants, friends and family. Among them was Smith's mom, who was smiling with pride and taking photos, according to Smith. Carter said that the competition really sparked conversation and helped students connect. Buadoo, who was also in the crowd, said she felt proud of her own video. She sat with her friend, who also participated, as Smith and Carter were interviewed about their winning videos by Johnson.
After injuring her hand in 2019, Buadoo discovered the School of Communication and Media. This is where she started to discover a new passion as she eased back into music and let her hand heal. She said the Creative Jam competition helped her find her "wisdom" and venture outside of her comfort zone. In May 2022, Buadoo graduated with a bachelor's degree in media and entertainment from KSU.
Buadoo said that she has since used the skills she learned in the competition outside of KSU, including making content for her YouTube channel. She encourages all students to participate in the Creative Jam to learn new skills and to be able to share their story. Buadoo uses Premiere Rush to edit the lifestyle videos she uploads. She currently has 500 subscribers and has received up to 37k views.
"This is a way I can still use my hands to do something and create something," said Buadoo.
--By Kaylin Azaroff, B.S. Media and Entertainment, Class of 2022
To sign up for the 2023 Adobe Creative Jam Click Here