Alumni & Friends
Where are they now?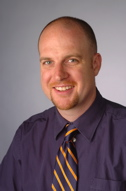 Rob Enslin has enjoyed a rich and varied career in music and communications. Since 2004, he has served as the communications manager of The College of Arts and Sciences at Syracuse University, where he oversees media relations, publications, and special events. From 2001-04, he held a similar position at Nazareth College in Rochester, N.Y. During the 1990s, Rob served as a record producer and music executive in Atlanta for Intersound Inc., then one of the world's largest independent record companies. In this capacity, he produced five "gold" albums and dozens of chart-topping classical and crossover albums; created some of the industry's first Enhanced CDs; and promoted a variety of classical, jazz, rock, and country projects. As a trombonist, Rob has played with or opened for James Brown, Parliament/Funkadelic, David Grusin, "Doctor" Lonnie Smith, and countless others, as well as performed with many concert bands and orchestras, including the National Repertory Orchestra and Orchestra Atlanta. As a journalist, he has written hundreds of album liner notes, film and album reviews, and magazine/newspaper profiles of notable musicians, dancers, artists, writers, and filmmakers. An amateur composer, he supports new music and music education by serving on the boards of various arts organizations.
Tyler Thornton - Public Relations, 2019
SOCM Alum Tyler Thornton, a Public Relations Specialist with Fernbank Museum was recently featured on WSB's People to People talking about the 2020 Atlanta City Nature Challenge. While the City Nature Challenge is no longer a competition among cities in 2020, Tyler outlines the event's new mission to get individuals outside and explore the environment around them in a safe and unique way. Click here to watch!
AlumniConnection
Help us keep you up to date on the great things happening in the KSU School of Communication & Media and update us on your life after graduation!