U.K. Musical Aesthetic
KENNESAW, Ga. (Jun 2, 2020) —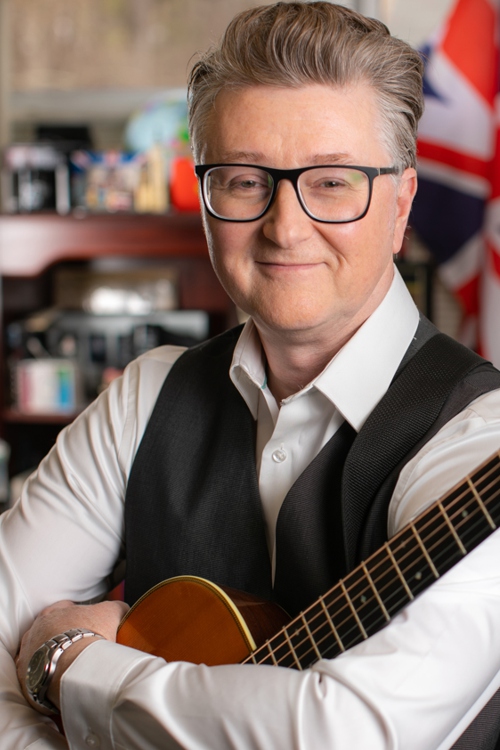 Danny Howes has more than 30 years of experience as a musician, touring internationally as a guitarist in multiple bands. Howes, a recent graduate of the Master of Arts in Integrated Global Communication program (MAIGC) at Kennesaw State, has been researching the global flow of U.K. entertainment media and how the U.S. is influenced by those media messages.
He brings this unique global background to his research and his classes as the associate director and senior lecturer for the Joel A. Katz Music and Entertainment Business Program (MEBUS) in the Coles College of Business.
"Through doors opened by Joel Katz and the MEBUS program, I have been fortunate to lead the London study abroad trips in which MEBUS students have the opportunity to explore England's rich musical heritage from the perspective of the entertainment business," said Howes. "During those trips, and during my MAIGC research in the U.K., I was able to add to my research with interviews from a wide variety of entertainment industry professionals."
The impressive list of interviewees included executives, academics and entrepreneurs, such as veteran "Abbey Road" producer Tony Clark and Sony Music branding guru Fred Bolza.
Howes said that he began his research with the idea of "reverse colonialism," or reverse media flow, in which media created in the U.K. is exported for consumption in the U.S. From his interviews, he found that many Americans are fascinated with the media from the U.K. because it is immensely different from what the U.S. produces in terms of film, television and music.
"As a U.S. musician who has always loved British music, my research became specifically about the U.K. musical aesthetic, which is something to marvel at considering the many decades of 'British invasions' and the diversity of musicians ranging from the Beatles to Ed Sheeran," he said. "Their music not only inspires their fans, but also touches upon their own stories about growing up in such a unique country."
Through his research, Howes hopes to show that music is much more than entertainment. Music is embedded with cultural values and local meanings, as well as national identity. In this way, musical expression can help increase awareness of other cultures, which allows people to have a better understanding of one another.
Howes is continually inspired by working with MEBUS students and is excited to share his unique global music industry perspective. He plans to involve his students in future entertainment research projects.
"It is invaluable for students to become involved with research opportunities so they do not get stuck on a vertical staircase toward graduation, because research can also spark a passion for learning," he said. "For humanity to move forward, you must examine things and find out why they happen. The 'why' question is very important to answer because it gives us the power to make a difference."
Article courtesy of the KSU Office of Research, written by Geena Lawrence. For more stories like this, see The Investigator Research Magazine.