Dawn Baunach Named Interim Associate Dean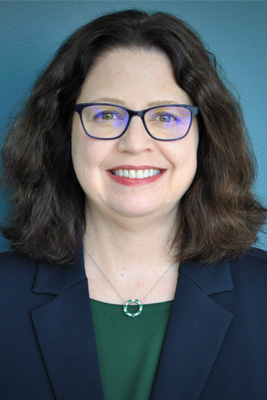 New interim associate dean to lead faculty/student development and strategic initiatives
KENNESAW, Ga. (Aug 28, 2020) — Shawn Long, dean of the College of Humanities and Social Sciences (CHSS) at Kennesaw State University (KSU), has named Dawn Baunach as the CHSS interim associate dean for faculty/student development and strategic initiatives beginning September 1, 2020.
Baunach also serves as a professor of sociology at KSU. Previous to her appointment, Dawn served as chair of KSU's Department of Sociology and Criminal Justice.
"Dr. Baunach's extensive and progressive administrative experience and teaching experience make her perfectly suited for working with students and faculty," said Long. "She brings a wealth of ideas and strategies to this new role, and will be crucial to the progress of key strategic initiatives that help us reach the goal of becoming the most impactful college of humanities and social sciences in the country."
Baunach joined KSU in 2016 as chair of the Department of Sociology and Criminal Justice. Prior to her time at KSU, Baunach served as the director of graduate studies, interim department chair for the Department of Sociology, and associate professor of sociology at Georgia State University where she worked for 20 years.
Baunach's research has examined how gender and race affect wages and hiring and can lead to segregation, inequality, and sexual harassment in the workplace. Her most recent research focuses on sexualities-based inequalities, including sexual prejudices and "homophobia," sexual disclosure, sexual identification, HIV/AIDS prejudices, bullying, and same-sex marriage. She is one of the co-editors of "Sex Matters: The Sex and Society Reader," the most widely cited and adopted reader for courses on "sexualities and society."
"I am very excited to contribute to the Dean's vision and work to launch the Passport to Success program and makerspace this fall," said Baunach. "We are also working on exciting initiatives like leadership academies for faculty and students, diversity and inclusion events, and mentoring programs, all of which will allow students, staff, and faculty to join together to innovate and excel."
Baunach received her BA is Sociology from Duke University. She received her MA in Sociology, where she focused on the impact of family status on wages, and her Ph.D. in Sociology, with a focus on gender inequality in developing societies, from the University of Virginia.
---
A leader in innovative teaching and learning, Kennesaw State University offers more than 150 undergraduate, graduate and doctoral degrees to its approximately 38,000 students. With 13 colleges on two metro Atlanta campuses, Kennesaw State is a member of the University System of Georgia and the third-largest university in the state. Kennesaw State is a Carnegie-designated doctoral research institution (R2), placing it among an elite group of only 6 percent of U.S. colleges and universities with an R1 or R2 status, and one of the 50 largest public institutions in the country. For more information, visit kennesaw.edu.
The College of Humanities and Social Sciences is the largest college at Kennesaw State University with more than 80 programs of study. For more information, visit chss.kennesaw.edu.