CHSS Faculty and Students Earn Presidential Diversity Awards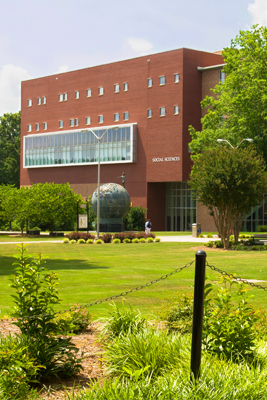 KENNESAW, Ga. (Sep 18, 2020) — The College of Humanities and Social Sciences is very happy to announce that two faculty members and two students have been named recipients of Kennesaw State University's Presidential Diversity Awards.
Established in 2013, and led by the six Presidential Commissions on Diversity, these awards honor faculty, staff and students of Kennesaw State University (KSU) whose actions, activities, and/or accomplishments in diversity support the pursuit of excellence towards making KSU a more inclusive and welcoming university.
Tara McMahon, Lecturer of Spanish in the Department of Foreign Languages, was awarded the Presidential Commission Disability Strategies and Resources: Carol J. Pope Award for Distinsction. The award recognizes outstanding efforts of an individual toward creating an inclusive, accessible, respectful, and safe climate for all students, faculty, and staff with disabilities at Kennesaw State University. Tara has been working diligently with Student Disability Services and a current student to ensure equal access is being provided to all KSU students with disabilities.
Britt Pickering, Director of the OwlSwap Program, received the Presidential Commission on Sustainability: R.C. Paul Excellence in Sustainability Award. The awaed recognizes the outstanding efforts of an individual toward promoting environmental sustainability in the educational and operational practices of the Kennesaw State University campus community. Britt successfully coordinated campuswide events to support those in need of clothing or facing homelessness or food insecurity.
Jordyn Alderman, psychology major in the Department of Psychological Sciences, received the Presidential Commission on Gender and Work Life Issues: Outstanding Contribution Award. The award recognizes outstanding efforts of an individual toward creating an inclusive climate that encourages increased gender and work life equity and success at Kennesaw State University. Jordyn supports our campus through the Women's Resource Center and regularly serves on panels about empowering and welcoming women and the LGBTQ community into the classroom and other professional environments.
Revi Woody, political science major in the School of Government and International Affairs, received the Office of Diversity and Inclusion Student Award. Revi assists in creating an inclusive, welcoming, and equitable learning and working community at Kennesaw State.
Congratulations to all of the award recipients! You can check out President Whitten's latest blog post about this by clicking here.