Virtual internships are providing real experience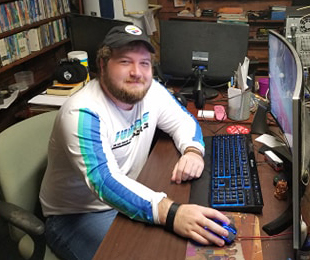 KENNESAW, Ga. (Jul 28, 2020) — Kennesaw State University students, including students from the College of Humanities and Social Sciences, are having valuable experiences through virtual internships with companies such as UPS, Pandora, Chick-fil-A, Ecolab and NCR. Approximately 215 Kennesaw State students from a range of majors are participating in a remote internship or co-op this summer, according to the Department of Career Planning and Development.
"It's becoming increasingly important to employers how students are spending their 'down time' during this period or how they're pivoting from a rescinded offer," said Ana Baida, executive director of transition support and career development. "We know that students who participate in hands-on, experiential learning are more competitive in the job market. Gratefully, employers are pivoting to remote internships and even providing opportunities for virtual job shadowing."
Dakota Cameron, a senior majoring in history, is interning with Kennesaw State, but doing it remotely. He and fellow interns with KSU's Museum of History and Holocaust Education (MHHE) are creating digital lessons for history teachers to use in the coming fall semester and beyond.
"The value of such an internship is undeniable," Cameron said. "The MHHE gets valuable help to produce useful materials and the students gain valuable work experience to add to their resumé."
The many KSU students gaining valuable experience from remote internships this summer also include Elayna Harris, a senior criminal justice major, who is interning with the Evan Guthrie Law Firm in South Carolina. She writes research-based articles about criminal justice and law that are published on the lawyer's website.
– Paul Floeckher Submitted photos