Journalism and Emerging Media Graduate Named Arthur Ashe Jr. Sports Scholar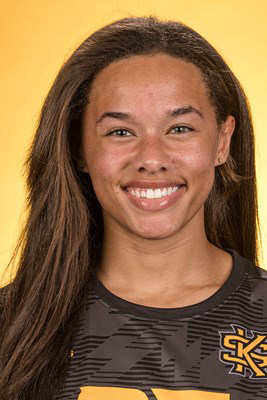 Morgan Harrison graduated from KSU in Spring 2020
KENNESAW, Ga. (Sep 10, 2020) — Kennesaw State University Athletics announced that five student athletes were chosen as Arthur Ashe Jr. Sports Scholars by Diverse: Issues In Higher Education magazine for their outstanding success in academics and athletics.
Among the five athletes is Morgan Harrison, a graduate from the School of Communication and Media with a degree in journalism and emerging media.
According to KSUOwls.com, Harrison, a native of Canton, Ga., made 15 starts as a midfielder for the women's soccer team. She totaled 14 shots with three on-goal and was a stalwart defensively. Harrison played a career-high 1276 minutes and helped lead the Owls to an ASUN runner-up finish.
The Arthur Ashe, Jr. Sports Scholar Awards were established to honor minority undergraduate students who best exemplify academic and athletic achievement. Inspired by tennis legend Arthur Ashe, Jr.'s commitment to education as well as his love for the game of tennis, U.S. colleges and universities are invited to participate in this annual awards program by nominating their outstanding sports scholars. In addition to their athletic ability and academic performance, Arthur Ashe Jr. Sports Scholars demonstrate a commitment to community service and student leadership.
To read the full article, click here.