Victoria Banks Honored as 2019 CHSS Student Scholar for MAPW
KENNESAW, Ga. (Apr 15, 2019) —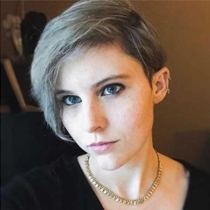 The MAPW faculty selected Victoria "Tori" Banks as the College of Humanities and Social Sciences (CHSS) 2019 Student Scholar for MAPW.Each year the CHSS asks for student honorees from each of its 36 degree programs, graduate and undergraduate.In addition, the student honors an influential mentor.Victoria selected Dr. Sergio Figueiredo as her faculty honoree.
As a MAPW student, Victoriahas dedicated her academic career to studying interactive narrative design and script writing for video games. Whileworking as a graduate research assistant, she founded the KSU Writing Center's Game Writers' Guild and presented on writing services for game design students for a Southeastern Writing Centers Association conference. As a composition instructor, Victoria utilizes multimodal pedagogy and strives tobroaden students' perceptions of what writing canbe. Along with teaching, she composes game guides, reviews, and articles as a freelance video game journalist at Launch Media Network. For her final capstone project, Victoria has developed an interactive script and sci-fi adventure game titled "Reset" to demonstrate her acquired knowledge in video game storytelling.
The awards luncheon and ceremony will be held later this month.
Congratulations Tori and Serg!